Vancouver Canucks vs Ottawa Senators
April 27, 2021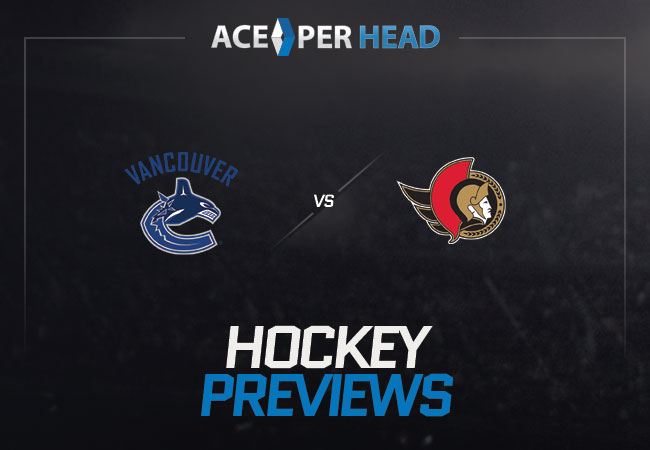 5:30 @ Canadian Tire Centre
This Wednesday the Ottawa Senators host the Vancouver Canucks for some NHL action in Canada.
The Senators are going into this contest with a record of eighteen wins, twenty-seven losses, and four draws. So far this season Ottawa has scored 131 goals, while 126 of them came while they were playing a man up. So far the Senators have launched 1,484 shots on net, which is the ninth-best in professional hockey, while they have relinquished 1,580 shots to their opponents. They have also amassed forty points, and are sitting on a points percentage of .408. On their 155 power-play chances, they have amassed a power-play percentage of seventeen percent. They have allowed their opponents to be on the power-play 151 times, and they own a penalty kill of seventy-eight percent, and a save percentage of eighty-nine percent. Lastly, during this season, Ottawa has given up 170 goals, and thirty-three of them came from when they were playing a man down. The last time Ottawa took the ice they beat Vancouver. In this game, the Senators were on the power-play once, but they couldn't find the back of the net. Ottawa launched twenty-seven shots on net, and they recorded two goals in this contest. They had a good outing in this matchup bringing home the Victory, but they will look to keep improving as they can play better than they did. The Corsi rate for the Senators came in at fifty-four percent, and the Fenwick is at fifty-two percent. How To Become A Bookie: All Your Questions Answered.
The man in net for the Senators is Marcus Hogberg, he has played a total of forty-one professional games and has amassed a record of eight wins, seventeen losses, and nine draws. While in net he has faced 1,149 shots and has made 1,028 saves overall and currently owns a save percentage of .895. He has made a successful start in 14/34 of his starting assignments while owning a quality start percentage of forty-one percent. In his 2,133 minutes on the ice, he has given up 121 goals to the opposition and they a currently scoring an average of three goals a game against him. The challengers the Vancouver Canucks are going into this game with a record of nineteen wins, twenty losses, and three draws. So far this season the Canucks have faced 1,408 shots, and they are sitting on a save percentage of .907. Vancouver let their opponents score 100 goals this season, and they have scored eighty-eight while they were on offense. On their opponents' 143 power-play opportunities they have scored thirty-one goals while having a man advantage. They have also recorded forty-one points, granting them a points percentage of .488. The Canucks have rocketed a total of 1,259 shots while scoring 111 goals, and they have relinquished 131 goals to the opposition. Also while Vancouver was on the power-play 118 times so far this season, they have scored on twenty-three of their tries while playing a man up. Top Tips For Online Casinos gambling sites for bookies.
The last time the Canucks took the ice they beat the Senators 2-1. The Canucks had an underwhelming performance in this game offensively, and they are longing for more going into this contest. On their twenty-six shots on net, they were only able to connect on one try. They also were on the power-play once but they had no luck. They also had to serve seven minutes in the penalty box. The Fenwick for the Canucks in this matchup came in at forty-seven percent, and the Corsi for them in this contest sits at forty-six percent. While at the face-off circle they compiled twenty-five face-off wins, and lost sixteen opportunities to possess the puck. The man in between the pipes for the Canucks is Thatcher Demko. In his professional career, he has been on the ice for a total of sixty-three games and has a record of thirty wins, twenty-six losses, and four draws. Demko has had a successful start in 36/60 games he has gotten assigned a start in, and currently owns a quality start percentage of .600. While in net he has faced 2,000 shots and recorded 1,822 saves earning him a save percentage of .911. During his 3,676 minutes played Demko has relinquished 178 goals and is currently giving up an average of three goals a game to his opponents. This matchup between the Ottawa Senators and the Vancouver Canucks is evenly priced, will the Senators continue to reign supreme, and take home their third win in this series over the the Canucks. Or will the Canucks bounce back a take home a Victory tying things up? 5 Helpful Online Betting Tips.
At Ace Per Head.com our pick to win this game against the spread is going to the Ottawa Senators, they have a home-ice advantage, and what it takes to seal the deal in this matchup. With the introduction of a greater variety of hockey prop bets, alternative lines, and live betting, Ace Per head is revolutionizing the way people bet on hockey. The easy-to-use NHL betting software and casino gambling platform that is available to all mobile devices make betting on the go safe and fun for all players. The gambling industry is changing every day, having the experience and vision to identify where the next big moneymaker is coming from is what sets Ace Per Head apart from the competition. So when you're ready to get in on the action there's no better place than Ace!