Vegas Golden Knights vs Minnesota Wild
March 3, 2021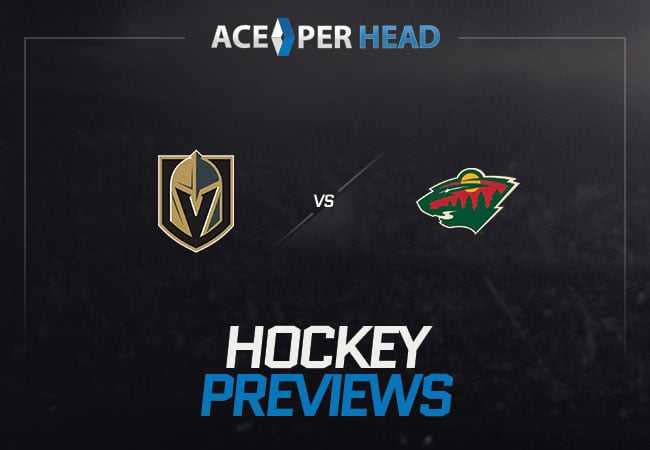 10:00 p.m. @ T-Mobile Arena
Wednesday 03/03/2021
The Minnesota Wild's head to Las Vegas, Nevada to take on the Golden Knights for a night of action on the ice.
The Vegas Golden Knights are playing with a record of thirteen wins, four losses, and one draw so far this season. The Vegas Golden Knights are ranked twentieth in the National Hockey League for power-play goals with twelve. This Vegas team has taken 546 shots and has faced 491 so far this season. This has the Golden Knights ranked at twenty-eighth in the league for shooting. So far this season, the Golden Knights have put up fifty-six goals, and have amassed twenty-seven points. On fifty-eight power-play opportunities, the Golden Knights converted on twenty percent and have killed the opponent power-play eighty-seven percent of forty-eight tries, letting up six goals man-down.
Lastly, as a team, they have relinquished thirty-nine goals to opponents. In their last time out on the ice, the Vegas Golden Knights actually beat the Minnesota Wild. Vegas converted two times on the power play out of three chances. The Golden Knights rocketed thirty-nine shots on the net and hit the back of the net five times. The Corsi percentage for Vegas was fifty-eight percent, while the Fenwick for Vegas was at a percentage of fifty-seven percent. Those percentages show that the Golden Knights had an impressive performance overall. In net for the Golden Knights is Marc-Andre Fleury who has a professional record of 476 wins, 269 losses, and 82 draws and playing in a total of 860 games for a total of 49,737 minutes on the ice. Fleury has made 387 quality starts which are around fifty-five percent, so he has had a good start in over half of his starts. He's faced 24,361 shots and has stopped 22,240 which is stellar save percentage of .913. Fleury has given up a career total of 2,121 goals and an average of 2.5 per contest.
The Minnesota Wild are getting ready to face off against the Golden Knights for the second time in a row and have been playing with a professional record of twelve wins, six losses, and one draw this season in the National Hockey League.
The Minnesota Wild have scored sixty-one goals which are thirteenth in the NHL, sitting at twenty-five points, and have given up forty-nine goals so far this season. The Minnesota wild has taken 582 shots and have faced 561 shots having an overall save percentage of .913, the Wild has had sixty-three power play opportunities converting on five of them and has given up twelve power-play goals to opponents out of sixty-nine penalties committed. The Wild faced a crushing defeat by the hands of the Golden Knights, suffering a five to four loss.
The Corsi percentage for the Wild was forty-two percent, and a Fenwick percentage of forty-three percent. From these stats, it shows the Wild had a good offensive outing. However, the defense was lacking. A good thing is the Wild only sat for two minutes in the penalty box so they can play clean hockey when it counts. At the face-off circle, they won nineteen but lost thirty, so they need to improve winning possession of the puck. Also, if anything they need to improve on the power play attack, because they aren't able to convert, and went four for thirty on shots attempted.
The man in net for the Wild is Cam Talbot who has played a total of 322 games in his NHL career starting in 308 of them, with 154 wins, 124 losses, and twenty-six draws for a total of 18,430 minutes of ice time. In the net, he has let up an average of three goals per matchup and has let up 796 in total. Cam Talbot has made 8,609 saves out of 9,405 shots against him for an outstanding save percentage of .915. Lastly out of his 308 starts he has played perfectly from the start in 160 of his starts. The Minnesota Wild and Las Vegas Golden Knights have both been playing exceptionally so far this season, and this game will surely be an exciting and action-packed skirmish.
At AcePerHead.com our pick is going to the Vegas Golden Knights and to take the Under. Hockey is a somewhat misunderstood game in America, and a lot of people shy away from it because they are afraid they simply don't know enough about the game, but in the words of the great Wayne Gretzky "You miss 100% of the shots you don't take" So leave your apprehension aside and take a shot! Agents should really try to promote the sport more, the game is so fast and, in some ways, unpredictable. It provides great opportunities to make money, and with such a long season, the odds are in favor of the house.
With new options for hockey prop bets, alternative lines, and live betting, Ace Per Head is the place to go. We are changing the way people bet on hockey with our easy-to-use NHL betting software platform. It is expected for ice hockey to continue with its uptrend for the seasons to come, making the sport more appealing to a wider audience. This means that agents that take advantage of this trend and start targeting this market share will reap better results and higher profit margins than those that are struggling to embrace the sport.
The gambling industry is changing every day, having the experience and vision to identify where the next big moneymaker is coming from is what sets Ace Per Head apart from the competition. With the sharpest lines, provided by our expert line managers and a great deal of care we have for our clients, we are the place to go for all of your betting needs from NHL live betting to NCAA College hoops brackets, so you can capitalize on our Pay Per Head bookmaker software and increase your profits.
Minnesota Wild:
Vegas Golden Knights: