Washington Capitals vs New York Islanders
April 24, 2021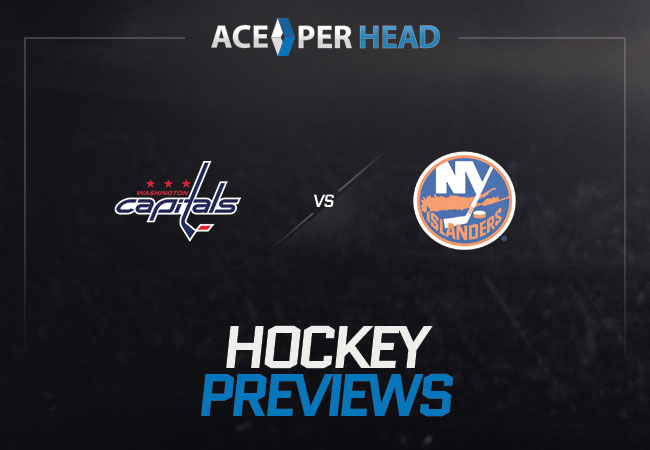 7:00 p.m. @ Barclays Center
Join us for some Saturday night hockey action as the New York Islanders host the Washington Capitals at the Barclays Center, in Brooklyn NY.
The home team the Islanders currently own a record of twenty-nine wins, thirteen losses, and five draws. So far this season the Islanders have put up 129 goals, sixty-three points, and they currently own a points percentage of .670. As a unit they have conceded 105 goals total to their opponents, eighty-five of those goals were at even strength, and twenty of them were while they were playing a man down. Then the Islanders have scored 107 goals at even strength, and twenty-two goals while on their power-play 128 opportunities. New York has rocketed 1,367 shots on net which is the nineteenth best in the NHL, while they have faced 1,316 shots earning them a save percentage of ninety-two percent. Lastly, they have allowed their opponents to be on the power-play 117 times, and they own a penalty kill of eighty-three percent. In their last trip out on the ice, the Islanders took a loss from the Capitals. New York had an alright performance, but they will for sure be looking to bounce back in their skirmish tonight. The Corsi came in at forty-two percent for the Islanders, and the Fenwick is at forty-three percent. On their 2 power-play chances they couldn't find the net, and on their twenty-six shots, they weren't able to make anything happen. In net for the Islanders is Semyon Varlamov, he has been on the ice for 30,029 minutes of playing time and has let in a total of 1,320 goals in his career. He is currently letting opponents average two goals a game against him. Varlamov has been in the net for 524 games and has amassed a record of 249 wins, 192 losses, and sixty draws. While in net he has had a successful start in 281/500 assigned starts, granting him a quality start rate of fifty-six percent. Lastly while in between the pipes he has faced a total of 15,715 shots, and has saved 14,395 of those shots earning him a save percentage of .916. The challengers the Washington Capitals are going into this matchup as the favorites, and a record of thirty wins, thirteen losses, and four draws. Blog Betting Software For Bookies – How Can it Benefit You?.
This season the Capitals have scored 161 goals which are the best in the league, while they have conceded 139 to their opponents. As far as points go they have a points percentage of .681, and own sixty-four points total. On their 130 power-play chances, the Capitals have converted thirty-five goals while a man up. Then at even strength, they have given up 116 goals while netting 126 themselves. While on the ice Washington rocketed 1,346 shots on net, and have faced 1,379 shots giving them a save percentage of .899. Then while on the power-play the opponents of the Capitals scored 23 goals on their 141 power-play tries. The last time Washington took the ice they beat the Islanders 1-0. When at the face-off circle they collected nineteen wins and lost seventeen tries to possess the puck. The Fenwick for this matchup came in at fifty-seven percent, and the Corsi is fifty-seven percent. On offense, the Capitals didn't have the best performance, but they were able to hold the Islanders from scoring while on defense, and that's pretty impressive. How to Select a Virtual Casino Online.
s far as penalties go the Capitals had to serve six minutes in the penalty box. Lastly, on their three power-play chances, they couldn't make anything happen, but while playing at even strength they connected on 1 out of their twenty-eight shots on net. In between the pipes for the Washington Capitals is Vitek Vanecek, he has played in thirty-one games total in his professional career and amassed a record of seventeen wins, nine losses, and three draws. Vanecek has been named started in thirty games and has performed successfully in sixteen of those starts, granting him a quality start percentage of .533. While guarding the crease for a total of 1,756 minutes he has seen 878 shots and has recorded 797 saves, granting him a save percentage of .908. Lastly, he has given up a total of eighty-one goals in his NHL career and is currently conceding three points per game to the opposition. Going into this contest both of these teams have played impressively this season, and they own similar records and look similar on paper. Overall this New York Islanders team is on the way to beating teams like the Flyers, and Rangers recently.
But at www.AcePerHead.com our pick to win this game against the spread is going to the Washington Capitals, and we believe they have what it takes to seal the deal and take home the victory. With the introduction of a greater variety of hockey prop bets, alternative lines, and live betting, Ace Per Head is revolutionizing the way people bet on hockey. The easy to use NHL betting software platform that is available to all mobile devices makes betting on the go safe and fun for all players.
Washington Capitals:
New York Islanders: