Wild vs. Predators Game Preview
December 12, 2016
The Minnesota Wild have won 5 consecutive matches, as they prepare to go on the road to face the Nashville Predators on Thursday. Minnesota will try to obtain yet another victory, if they succeed it would mean that they will have won 3 home games and 3 road games this month.
The game against the Predators is scheduled to start at 8:00 pm ET at the Bridgestone Arena in Nashville. The Wild have been impressive this month, not only have they won 5 games in a row, but they have only allowed a total of 7 goals to be scored against them.
Eric Staal attributes this, to an increased sense of confidence and comfort in the style of play that head coach Bruce Boudreau has instilled in the team. Staal leads the team with 20 points this season and he scored his 800th point of his career with an assist on Sunday against the St. Louis Blues, since then he has added another point to that figure, scoring against the Florida Panthers on Tuesday.
The reason why the Wild have limited their opponents to just 7 goals in the past five games, is goalie Devan Dubnyk, who on average is only allowing 1.6 goals against per game, his current record is 14-6-3 and 0.947 save percentage. With these numbers, it is easy to see how Minnesota has established itself as a contender for the Central Division title this season.
The Predators haven't had such a good month, they were on a 2-game losing streak before beating the St. Louis Blues, this Tuesday by a score of 6-3. This was possible in part, due to the return to the ice of defenseman Ryan Ellis and forward Colton Sissons, both players had been placed on the disabled list due to upper body injuries; Ellis had not played since November 23rd while Sissons got injured on November 25th.
Ellis seems to have returned in full form, he logged 22 minutes on the ice on Tuesday against the Blues where he had one shot on goal and ended with a plus 3 rating. Sissons on the other hand, did not have any points or shots in that game after 11 minutes of play.
The Predators are 10-2-2 at home this season, while their opponents from Minnesota are 6-5-4 on the road. The Predators already had a deep squad as seven of their players have between 17 and 20 points and with the return of Ellis and Sissons they can only benefit, and having the home field advantage certainly gives them an edge in this game. Adding to this, we need to consider that Minnesota is 24-58 in their last 82 games on the road against teams that have home winning percentages above 0.600 which the Predators clearly have. Nashville is 20-8 in their last 28 home games and 35-16 in their last 51 home games against opponents with a losing road record. They are 7-0 in their last 7 home matches against teams with a winning road record and 5-2 in their last 7 against Central Division teams.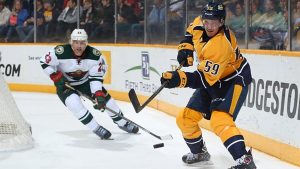 The numbers are straight forward, with Ellis and Sissons back on the ice I see no reason why those trends would change in this game, therefore I predict the Predators will continue their winning streak while crushing Minnesota's.
Check out the best NHL Odds at AceSportsbook.com.