How to Be a Bookie for Dummies?
March 25, 2022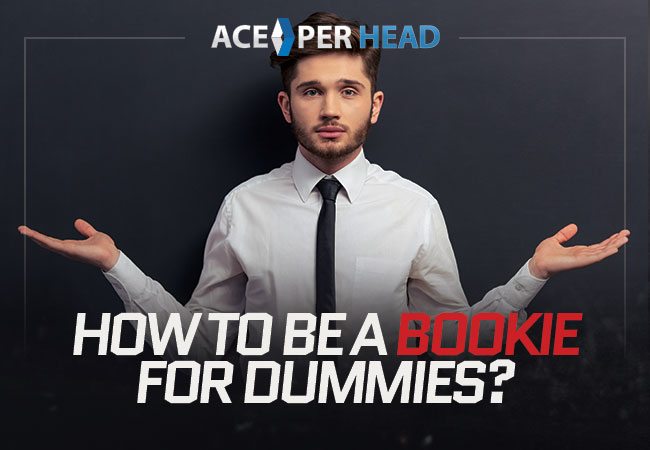 There are about 30.2 million small businesses across the US, so you're going to need to enter a growing market if you want to succeed. Luckily, running a unique startup is easier than ever before with the evolving and popular sports betting market.
Becoming a bookie is a fun and lucrative profession, especially for those who love sports. But how can you enter into this market and make a bank?
Read on to answer this question and to read a complete guide on how to be a bookie for dummies.
Understand What You're Getting Into
Before you decide to become a bookie, it's critical that you understand what you're getting into. Running a sportsbook is an awesome thing that you can't really go wrong with. Still, you aren't going to be successful if you don't understand the market or what competition you have.
The current market for sports betting is worth around $57.2 billion. This 2021 figure is about two times higher than 2020's sports gambling revenue, so it's important to understand that you're entering a growing market. You're going to have a lot of competitor bookies that you need to keep ahead of with innovative web design and interesting promotions.
However, this large market is an excellent thing for dedicated bookmakers. It means that there is more demand for your services so that you can constantly sign on new players. These bettors will in turn spread the word about your online sports betting business so that you can get even more clients.
It's also important to understand how much money you can make as a bookie. You'll be happy to learn that small bookies can earn a decent living with their sports betting business. Around $30,000 is a pretty common startup salary for those with only a couple dozen bettors.
You'll be even happier to learn that you get out what you put into the sports betting business. Some devoted bookies make up fo $50,000-100,000 per week. This amounts to a $5 million annual salary, so a bookie business has definite financial benefits.
Plan Out Your Bookie Business
In order to rake in this huge sum, you'll need to meticulously plan your online sportsbook. Remember that at its core, your sportsbook is a business. You'll need to engage in business planning if you want a successful startup.
Some important things to take care of on this logistical end include:
Come up with a long-term vision statement that broadly describes where you want your bookie business to go
Create a shorter-term actionable mission statement that describes the specific ways that you want to impact bettors and deliver them a great sportsbook service
Clearly write out short-term objectives to be achieved within the first 1-4 months (how much money you hope to make, how many bettors you want to sign on, etc)
Clearly describe long-term objectives (to be achieved in a year, 5 years, 10 years, etc) in the same document as your short-term goals (the desired number of bettors, desired income, ideal expansion into other sports/teams/events, ideal market expansion throughout other parts of the world, etc)
Consider how short-term goals feed into longer ones
Create a clear budget for starting your sportsbook (considering the costs of software, marketing, outreach, web design, and more)
Think about whether you'll need to hire anyone to help you maintain your sportsbook
Carefully considering each of these facets will help your sportsbook to start off on the right foot. Make sure that you continue to consider it the business that it is. If you stray from a business mindset, your sportsbook is going to be less successful.
Remember that goals and objectives should change over time. You'll need to adapt to new information about your bettors and income after actually starting the business. When you have empirical statistics to work with from your own experience, you can set more realistic expectations.
Select the Right Sportsbook Software
Budgeting is one of the hardest parts of setting up a traditional bookie betting service. There are a lot of things to consider including web design, web development, features, maintenance, updates, upgrades, blog posting, investing in multimedia content, and linking to score tracking software.
These basic requirements for a bookie website can really add up over time. They also can be challenging to integrate unless you have a sportsbook-specific platform. This is because online sports betting services have vastly different needs than other business sites or eCommerce shops.
Getting the right bookie software is essential. It needs to be made specifically for bookies by those who understand sports betting. It also needs to be affordable.
Pay Per Head Services: The Best Software Type
Pay per head (PPH) services are the only sportsbook technologies that meet both of these needs.
Many sportsbook technologies are subscription-based, meaning that you pay a flat monthly/yearly fee for their services. These are the most common payment methods when you're looking for something specific to bookies. However, flat fees mean that you'll be paying the same large sum for an online service during the off-season as you would around the time of major sporting events.
This is unsustainable because you would sometimes be paying your sportsbook providers more than you're making. You would need to stress about saving for these low-income times. You also would wind up unnecessarily losing money since there is a better alternative.
Pay per head services, also known as price per player sportsbooks, solve this budgeting problem. The PPH payment method only asks that you pay your provider a small fee of about $10-20 for each active bettor that you're working with. If someone places a Super Bowl bet but never comes back, you won't need to keep paying for them after the Super Bowl.
This makes your business scalable and flexible. It also ensures that you always are making more than you're spending. You will always be profitable with a consistently lucrative business.
Set Up Your Pay Per Head Website
Ace Per Head, the top PPH provider on the market, provides you with a lot of help setting up your website. You can choose between any number of customizable templates for initial set-up. These templates are specially designed for budding bookies, but we can also help you build a fully-custom site from scratch if you prefer.
You can then access features including:
Security features like multi-factor authentication, site encryption, and Bitcoin payments
Automated updates and upgrades
Linking to other sports score-tracking sites to better keep track of bets
Fully customizable lines and limits
24/7 customer support for both agents and players
All of these features can help you to grow your website in both the long and short term. Make sure that you talk with an expert and use them correctly. You can also alter and adapt your website over time if you have a specific change in mind.
We're here to use the best features to match your specific vision. You imagine it; we bring it to life.
Market Your Business & Get Players ASAP
Once your page is set up, your work still isn't over. Ace Per Head will handle maintenance, updates, and upgrade if you just tell us what you want. This is simple and doesn't take much time or effort on your part.
You can instead take this time to create marketing campaigns that actually convert. No business can succeed if it doesn't reach its target audience, and a sportsbook is no exception.
Beyond How to Be a Bookie for Dummies
Now that you have some info on how to be a bookie for dummies, it's time to bring your sports betting business idea to life. That means trying a demo of our top PPH platform and talking to experts about the ways that they can guide you through the process of starting up.
We're committed to helping you design, launch, and maintain an online bookie business that bettors love. Create your PPH package now to see the ways that Ace Per Head's sportsbook software professionals can help you thrive.