MMA Event this Weekend: UFC 199
June 3, 2016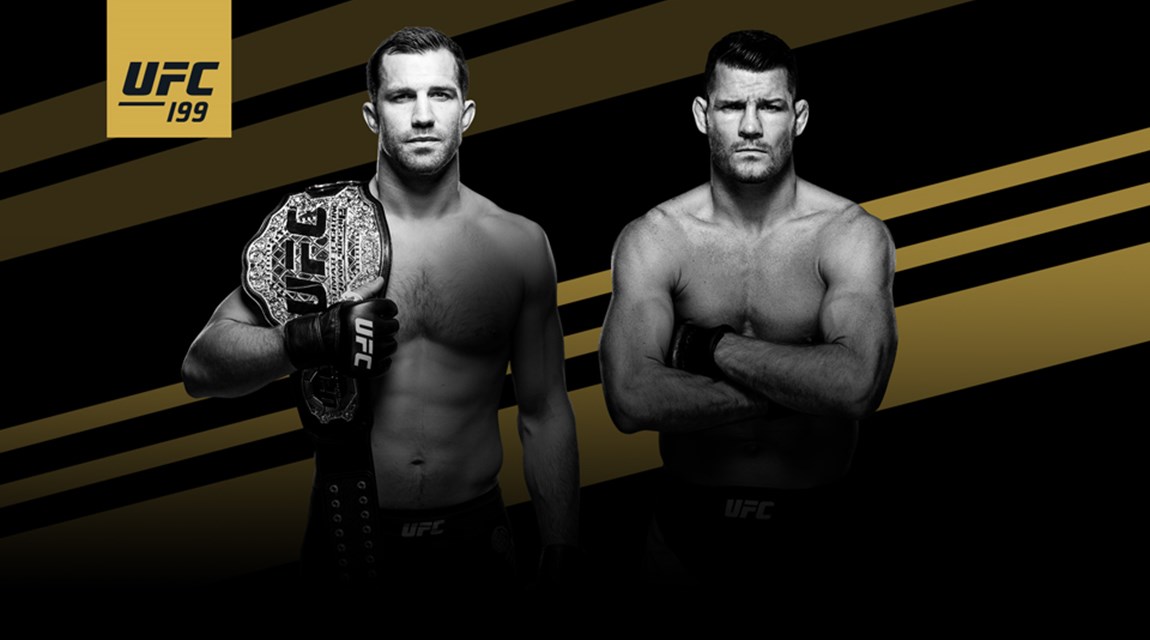 The Forum, in Inglewood, California will host the UFC 199  PPV card which features Rockhold vs. Bisping as the main event and Dominick Cruz vs. Urijah Faber in the co-main event.
Bisping the big underdog
31 year old Luke Rockhold holds a record of 15 wins and 2 losses and is the current middleweight champion, he is facing 37 year old Michael Bisping for a second time; Bisping has a record of 28 wins and 7 losses, not the opponent of choice for many,  Bisping however took this fight on short notice after the original opponent, Chris Weidman had to pull out due to an injury; Bisping lost to Rockhold in a one sided fight back in 2014, via a submission (Guillotine Choke) in Round 2.  This is probably the last chance Bisping is getting at a title shot and perhaps he learned a thing or two since he last fought Rockhold… however odds are not in his favor as Rockhold stands as the more skilled fighter.
Odds for #RockholdBisping at most books:  -750 for Rockhold  +475 Bisping
Enemies meet again
The #CruzFaber match is one that many fans are looking forward to, especially when it comes to betting on MMA, a longtime rivalry will step into the ring when Faber will try to win the bantamweight title and the series from Dominick Cruz. This is not their first tangle; they have faced each other two times before, back in 2007 and 2011, in the first match Faber took the win while in the second one it was Cruz that got his hand raised. This is the tie breaker between 31 year old Cruz who stands at 21 wins 1 loss, and 37 year old Faber who has a record of 33 wins and 8 losses; this is Faber's fourth title shot, unfortunately for him he has come up short the previous 3 times. This is Cruz' second fight this year after spending over a year away from the octagon due to a knee injury.
Odds have Dominick Cruz as the favorite at -450, he has a difficult fighting style and his only defeat came at Faber's hands almost a decade ago, then again the period of inactivity he's had could play against him even when he looked great in his January fight. Faber is the underdog at +350 and although stats are not in his favor, he has a lot to prove to himself… at 37 this may be the last title shot he is getting.
AceSportsbook.com has odds for the entire card of the UFC 199, don't miss out on the opportunity of winning big and enjoy a smooth online wagering experience at the best online sportsbook.