UFC 202 – Will McGregor be able to dominate Diaz?
August 16, 2016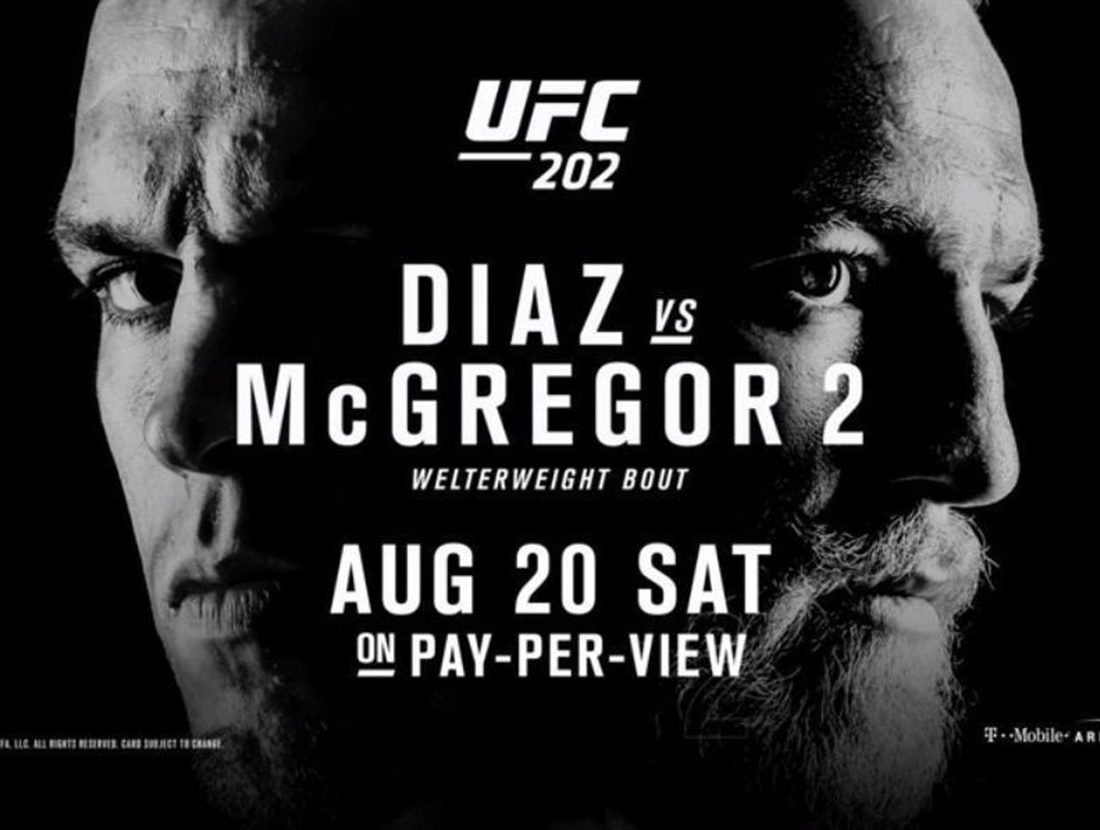 UFC 202 brings us the rematch between Nate Diaz and Conor McGregor this Saturday, August 20 at the T-Mobile Arena in Las Vegas, Nevada. Conor McGregor  and Nate Diaz faced off last March and in that occasion Diaz took a second round submission win.
Was it a circumstantial win or is Diaz just better than McGregor?
McGregor is the current featherweight champion but the title is not on the line as he faces Diaz again; Diaz was responsible for breaking McGregor's 15-fight winning streak;  Nate Diaz had stepped in as a late replacement to Rafael dos Anjos and the fight took place at 170 pounds instead of 155, the extra weight and the last minute change of opponent  may have played a role in McGregor's performance, and he has claimed he felt over-trained, McGregor has no excuses this time around although the fight is again at 170lbs… why? Good question… the first time around it made sense because of the forced change of opponents… this time, it simply makes no sense. Yet, it has been reported that Diaz had to do a big weight-cut as he was pushing 200 pounds.
31 year old Nate Diaz is quite skilled in boxing and Brazilian jiu-jitsu, he proved he had better skills both standing and on the mat than McGregor in their last encounter, although in paper McGregor is the stronger puncher, he is a good kickboxer and should certainly take advantage of this, has better defensive skills and now also a desire for revenge.
After their first match-up you can't help but wonder if McGregor might be making a mistake taking this fight; Diaz beat him the first time around after taking the fight short notice and not having time to prepare properly… one can claim McGregor may have underestimated Diaz,  but the fact is both fighters know who they're facing now and have had enough time to prepare and make the necessary adjustments. When it comes to odds to bet the UFC 202, McGregor retains a small advantage, he still has a strong resume and many followers; sportsbooks show McGregor as a favorite to win with odds of around -125 and Diaz at +105
McGregor needs to make use of his kickboxing skills, Diaz is a better boxer and has good speed, McGregor needs to kick his legs as much as possible, he can't stand the0re and exchange punches, he needs to kick and move, be as efficient as possible and throw volume to try and keep Diaz away. If McGregor makes the right changes in his strategy he may be able to pull a UD win over Diaz, if he doesn't I fear the result will be the same as in their first fight. I predict a Nate Diaz win.
Bet the Conor McGregor vs. Nate Diaz rematch at AceSportsbook.com; other fights in the UFC 202 card that you can bet on include:
Anthony Johnson -210
Glover Teixeira +175
Rick Story +140
Donald Cerrone -160