NBA Tonight: Picks & Previews 02/18/2021
February 18, 2021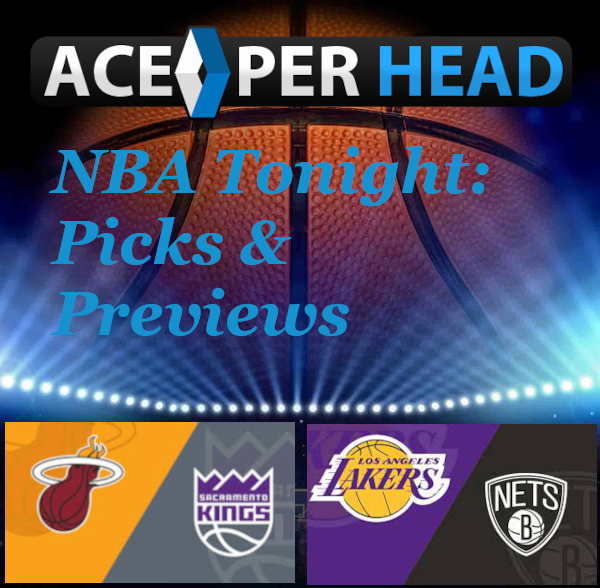 Miami Heat vs. The Sacramento Kings
10:00 p.m. @ Golden 1 Center
The Miami Heat continue their West coast road trip as they battle The Sacramento Kings of Northern California. The Sac-Town Kings are playing at a weak record of twelve and fifteen, and they are also in the middle of a slump currently on their fourth loss and trying to avoid the fifth tonight. What is strange about this season is nobody is consistent except for a few teams on top, but this isn't strange to The Kings, they've won seven games before going into this losing streak. It doesn't look like things are going to get easier for them this season, they need to get their act together for next season and rebuild. An all-star for this Sacramento team is De'Aaron Fox and he's trying his best to try to raise this team from the ashes. Fox sits on the thrown for The Kings and puts up at least thirty points a game for his team and tries to carry them to the best of his abilities. He is the guy for Sacramento, who is always putting up big numbers and has a bright future in the league in front of him. They also have Hassan Whiteside coming off of the bench for additional support on both sides of the court because he can put up over twenty-five points, and huge numbers for boards with sixteen and five blocks. This Kings team is definitely struggling, but they might be able to break the streak against this struggling, once great, Miami team. The Miami Heat are currently playing with a recod of twelve and fifteen, and are surprising fans by slacking this season after making it all the way to the finals last season in the bubble. It appears they are still shaken up from the loss, but things are starting to come together as they get into a flow, after winning four out of six games going into this exhibition. Something that has really affected this team during this season is injuries, they haven't had their best lineup play together except for a few games.
Jimmy Butler, Dragic, and Tyler Herro are all beasts for The Heat and they all play well together on the court. They just haven't gotten many opportunities to play in sync and ball out on a team. If all those guys were playing together on a regular basis, this Heat team would be very different and would  have a better record like last season because those three carried them to the finals. Goran Dragic doesn't look like he is returning soon, so Jimmy Butler is trying to "Lebron" The Heat and put them all on his back. Bam and Tyler Herro are providing additional support too, they are key players that are always going hard in the paint. Jimmy Butler is putting up twenty-two points, matching eight rebounds & assists, and 2 steals. If Butler can keep producing like this all season, then this Miami Heat team should be ok going into this season. These teams both played on January thirtieth so not too long ago, and The Heat won just by one point, so it was a close one. With the way The Sacramento Kings have been playing amidst this four-game losing streak, I don't think there is a way they can beat this Miami Heat team who are on the rise and are fighting.
At www.AcePerHead.com, Our pick would have to go to The Miami Heat, they have what it takes to bring home the W and are 2.5 point favorites going into this contest.
Miami Heat: PS/ Total: -1-110         Total O/U: 226.5-110
Sacramento Kings: PS/Total: 1-110  Total O/U: 226.5-110
Brooklyn Nets vs. Los Angeles Lakers
10:00 p.m. @ Staples Center
The Brooklyn Nets head to Downtown Los Angeles for an East vs. West coast battle. The Los Angeles Lakers are on fire so far in this season with a record of twenty-two and seven. They are coming into this matchup as a powerhouse, possibly the best they've been all season with 8 wins trailing behind them and definitely in a better position than The Nets. Their most recent victory came from when they bested Karl Anthony-Townes and The Minnesota Timberwolves. Also, they were able to accomplish this without Anthony Davis. Davis is currently out with an Achilles injury and is a vital part to this team. The star of The Lake show is Lebron James who puts up thirty PPG, thirteen rebounds, seven assists, and recorded one block. He is truly the backbone of this Los Angeles team; without Davis he has to put even more of the team on his back. He has support though from Montrezl Harrell and Marc Gasol, as well as Dennis Schroder who came from out of the woodwork this season who has been putting up big stats averaging twenty-four PPG. Davis is the only player out for The Lakers and this makes and impact on the game because he's guaranteed points and rebounds every game. This Lakers team is on fire and so is Brooklyn with a tough Big Three and a record of eighteen and twelve. It took The Nets a while to get things together and to have Kyrie Irving, James Harden, and Kevin Durant mesh well together on the court. They were lacking consistency but now they are in the middle of a four-game win streak. The most impressive thing about this team currently is how they are able to manage without Kyrie Irving and Kevin Durant, who are out with injuries. They have won the past two games handicapped and the most recent being a 20+ point comeback against The Phoenix Suns.
James Harden has really stepped up since being with Houston and has been the driving force behind Brooklyn's recent victories. Harden put up a whopping thirty-eight points, eleven assists, and tacked on seven rebounds. Another key player for The Nets is Joe Harris adding twenty-two points, Jeff green tacking on eighteen points and eight rebounds. Going into this game is it unknown whether or not Durant and Irving will play, so they are listed as questionable. Without them in, it is a huge part of the offense missing and they might need the support of Durant and Irving to beat LeBron. But if James Harden is able to keep doing his thing The Nets might have a shot at winning this one. This is going to be the first and only matchup between these two teams this season. Our pick would have to go to The Los Angeles Lakers, marked as 3-point favorites going into this game.
Brooklyn Nets- PS/ Total: 2.5-110              Total O/U: 232-110
Los Angeles Lakers- PS/ Total: -2.5-110    Total O/U: 232-110
At Ace Per Head our clients come first we want to provide them not only the best experience but the best NBA basketball lines. With our pay per head bookie software on Ace Per Head, you can capitalize on this NBA season from home.