NFL Championship Sunday: Odds 2021
January 22, 2021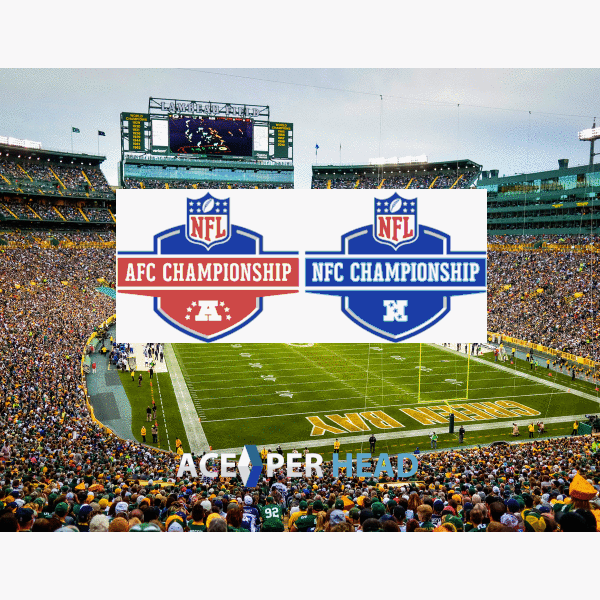 Packers favored over Brady's Buccaneers; Update on Mahomes injury, will he play?
After a wild and emotional weekend of the National Football League's divisional round, we have our four teams who will battle it out this Sunday in the conference championships for a shot at the Lombardi trophy, February 7th at Superbowl LV. The Buccaneers of Tampa Bay and the Green Bay Packers will be facing off in the NFC title game. While the Buffalo Bills and Kansas City Chiefs fight for control of the AFC. This past weekend was exciting in the NFL world, the Browns, Saints, and Ravens all were stunned and sent packing, but they all went into week 19 looking very promising. The same couldn't be said for the books, from a gambling view the divisional round playoffs seemed to be terrible earlier on in the books. Due to the favorites covering the spread that Saturday. Meanwhile on Sunday while the projected losers covered it. Going into the Conference finals the favorites are 4 and 6 while in the playoffs.
No.5 Tampa Bay (13-5 SU, 10-8 ATS) at No.1 Green Bay (14-3 SU, 11-6 ATS)
A veteran would know it's best to get your bets in early before lines could possibly go through a negative movement. There already has been a shift since the matchups were made and the lines were put out. Buccaneers at Packers, Latest odds: Green Bay Packers -3.5, Money lines: Buccaneers -120, Packers 100, Total: O/ U 51.5 -110. The NFC championship game will be held at Lambeau field for the first time in thirteen years. This would also be Green Bay's first Superbowl appearance in ten years. In the divisional round playoffs, the Packers crushed Sean McVay and the opposing LA Rams, beating them 32-18. Green Bay let by Aaron Rodgers and his offense busted through Los Angeles' top tier defense. As they achieved twenty-eight first downs and gained over 400 yards, which hasn't been done to the Rams all season. Green Bay was the only team to pull numbers like that off. Rodgers plays like an MVP with their easy victory now having won 7 consecutive games straight up and 5 and two against the spread. They are always clutch when it comes down to the wire. Their defense only allowed 244 yards of offense for Jared Goff's Rams. Allen Lazard leads the team in receiving yards that game. Catching 4 passes totaling ninety-six yards. As well as Davante Adams gaining 66 yards for a total of 9 completed receptions. Tampa Bay didn't have a big showing from their receiver core in their game against the Saints, but they came out on top battling veteran quarterback Drew Brees, defeating them 30-20. Tom Brady threw two touchdowns and a combined 199 yards and Fournette helped put up 125 yards on the ground. Brady has been in the NFL for 21 years and this will be his 14th appearance in the conference championship. He is also attributed with having more wins in the conference championship than all other quarterbacks. But the real stars of the game for the Buccaneers was the Defense only allowing the Saints 134 yards. Devin White was on point with a fumble recovery, picking off Bree's and 11 tackles. Showing he is a staple linebacker in the Buccaneers backfield. The Buccaneers have won six games straight up while they have gone 5 and 1 against the spread.
Our Pick:
Knowing earlier this season the Buccaneers demolished the Packers back in week 6 of the regular season, 38-10 in Tampa. That being the biggest fail of the season for the Packers, but this shows the Buccaneers can hold their own against Rodgers. Both games in the divisional playoffs the Buccaneers and the Saints put up 50 points. I'd take the Over and the Packers to cover 3.5 points. Two Legends and veteran quarterbacks will be dueling this Sunday with Superbowl LV on the line. Rodgers might not have this chance again. Tampa Bay may have beat them early on and they can hang with anyone throwing the ball downfield. Green bay deserves the favorite spot. They are more consistent as a whole team. Also having an extra day of rest and home-field advantage doesn't hurt. It can go either way, but this game is going to be some high caliber football and fun to watch. Picking the winner won't be easy but it is a chance for agents to make money says a spokesperson from www.AcePerHead.com. This game can be viewed Sunday, January 24th, 3:05 p.m. eastern time.
No.2 Buffalo (15-3 SU, 12-6 ATS) at No.1 Kansas City (15-2 SU, 7-10 ATS)
Bills at Chiefs , Latest odds: Kansas City Chiefs -3, Moneylines: Bills-120 , Chiefs 100
Total: O/ U 53.5 -110. The year is 1993, the AFC championship game is being played in Buffalo, New York. The dynasty bills are on the road to try to get into their fourth straight Superbowl appearance. They defeated Kansas City 30-13 and that was the last time they met in the playoffs. This past weekend in the divisional round the Chiefs won 22-17 over the Browns. They have won eleven of their last twelve games straight up and have failed to cover the spread in eight of their previous nine games. Even though Mahomes was clutch in this past weekend's performance against Baker Mayfield's Browns, he sustained a concussion and was shaken up so Chad Henne was put in to play out the game as quarterback due to concussion protocol. Mahomes status is still unknown but fans are hoping he can progress in order to be cleared for play. The Chiefs have been 1 and 8 against the spread since week 9. as well as playing nine games straight only winning by no more than six points. Buffalo has won 8 in a row straight up while also going seven and one against the spread. The Buffalo Bills were on fire in 1993 but it died out until Josh Allen reignited that spark this Sunday against Lamar Jackson and the Baltimore Ravens. They had 4 straight Superbowl/ AFC appearances, and this would be the first one since then. Even though it was a low-scoring game of 17-3 their defense was phenomenal. Holding them to only 3 points and a 101-yard pick-six. The Bills will have to depend on Josh Allen and Stefon Diggs if they want to take down Andy Reids Tough Chiefs! They have won eight straight games most tallying over double digits. Our pick: Due to Mahomes' injury it does bring up some questions and the fear of the unknown is a concern. But I'd take the Chiefs to cover the spread and id take the under. This is the point spread you want to pay attention to because bettors could start backing Buffalo due to Mahomes prognosis and if he misses practice at all. Also, these two teams faced each other in week 6 and the Chiefs prevailed 26-17. It all depends if Mahomes is cleared, they deserve the favorite spot. But even with a healed Patrick Mahomes under center, this game wouldn't be an easy steal for Kansas City. Allen, Diggs, and their all-star Defense is relentless. This would be the perfect time for the Bills to strike and dethrone the Chiefs. The Bills are a legitimate AFC contender, but it's hard to pick them to upset the Chiefs. Kansas City has become the first team since the 02-04 Eagles (Also Coached by Andy Reid) to host three straight conference championships. The bettors of the free bookie software can't go wrong with this game. This game also looks like it's going to be a good one with high-quality football. This time though instead of the two veterans facing off, its hot-shot young guns. So let's see who will be taking over Superbowl LV the NFL New school or Old school. This game can be viewed Sunday, January 24th, 6:40 p.m. Eastern time.
Super Bowl LV Recap: