Clash of the German Titants – DFB – Pokal
May 19, 2016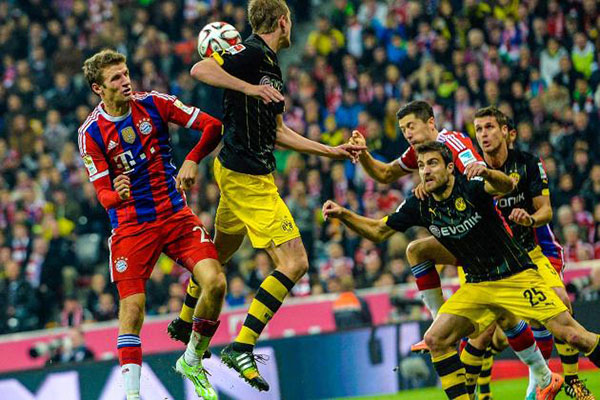 The German Cup Final takes place this Saturday in Berlin. The ultimate German soccer tittle will be disputed between the two best clubs in the League.
Bayern Munich who just won the Bundesliga last weekend and they will bid to complete a league and cup double when they face their arch-rival Borussia Dortmund. It can't possibly get any better than this, the last seven Bundesliga titles have been won by one of these teams.
While the motivation to win is just as strong on one side as it is on the other, each team has its own special reason why they want to take the trophy home. For Bayern Munich this will be the final season of head coach Pep Guardiola, the team has won 4 consecutive Bundesliga title the most recent 3 under the guidance of Guardiola, they have also won the DFB-Pokal crown with him so they would like to show their appreciation by winning it one last time with him. The only tittle Guardiola failed to accomplish during his tenure in Munich was the Champions League title.
For Borussia it is quite the opposite that motivates them, they are high on confidence and gratitude to their new head coach Thomas Tuchel, who has done miracles with a team that was in shambles just a year ago. With Guardiola gone, Tuchel will have an even better chance to shine while his opponent adjusts to a new coach. But before that happens, they want to beat the best team in the league (while they are still the best) because then it will really count.
The last time these 2 giants met in the German Cup final was in 2012, on that occasion Dortmund won 5-2; that year Dortmund completed a league and cup final much like Bayern is trying to do this year. But even Dortmund general manager Hans-Joachim Watzke recognizes that the team nor the circumstances today are the same as back in 2012. However, he believes Dortmund still has a chance to win.
Dortmund has the tactical knowledge, strategy, versatility and the players to beat Bayern Munich, however they have not been in their best form the last few weeks which could hinder their efforts. Bayern has the experience, the confidence and the ruthlessness to actually take the crown from underneath the feet of Dortmund and personally I believe they will.
My instinct tells me the game will end with Bayern Munich winning 2-1 against Borussia Dortmund.  Whether I'm right or not you should not miss this final for anything in the world, regardless of who wins I guarantee this battle will be epic.