The Quarter Finals of the Euro 2016 Promise Action and Entertainment
June 29, 2016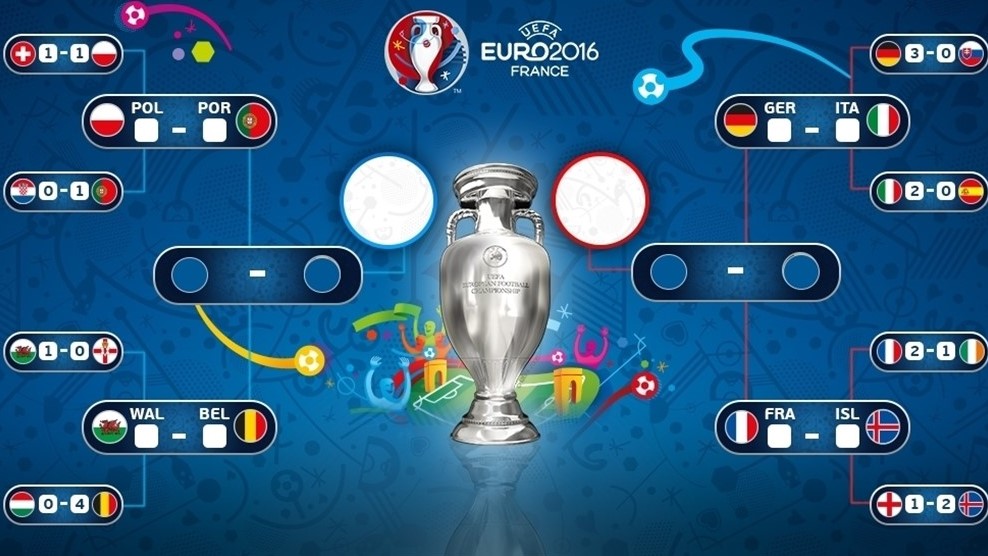 The UEFA Euro 2016 has had a few surprises, and as we head to the quarter finals we can't help but wonder if we will have more unexpected results or if the top teams will control the rest of the tournament. Whoever had bets on Iceland and Wales to make it to the quarter finals must have gotten a nice payout, so congratulations are in order to all winners, and Iceland is certainly one to watch out for, so perhaps it's worth to lay some money on this team to win if you haven't yet; and for all gamblers whose team didn't make it through the round of 16, you can still make up for any losses, bet on the UEFA Euro quarter finals this week at AceSportsbook.com, the schedule of games follows:
Thursday, June 30:  Poland vs. Portugal:
Poland gets to the quarter finals of the Euro for the first time and if they manage to beat Portugal this would be the first time since 1982 that they reach the semifinals of a major tournament.
Portugal has never failed to make it past the group stage but they didn't shine and CR7 can only take them so far, yet they are certainly the favorite to win in this match. Odds #PolandPortugal: Portugal – ½ + 120 // Poland + ½ -150 , my money is in Portugal on this game.
Friday, July 1:  Wales vs. Belgium:
Historically and statistically speaking Belgium is the better team, but Wales beat Belgium during the qualifying rounds of the UEFA Euro 2016 so they know it can be done, they are motivated and they want to continue to make history by getting to the semi-finals. Odds #BelgiumWales: Belgium – ½ -145 // Wales + ½ + 115  I think this is a very even match, you could make a case either way. I'd go with Wales to win this one.
Saturday, July 2: Germany vs. Italy:
In their previous encounters in big tournaments Italy has always been superior to Germany. The only time the Germans have gotten away with victory was in a recent friendly match, yet the World Cup winners are coming into the EURO championship as one of the favorites to win it and they won't miss the opportunity to take the lead in the European stage. Out of all the QF games this is definitely the match everyone is looking forward to watching, two very competitive teams. Odds for #ItalyGermany have Germany at – ½ + 110 and Italy at + ½ -140. Haven't made up my mind on this game, but I like Italy's chances, (I am certainly betting that Löw, Germany's Coach will be showing off one of his nasty habits).
Sunday, July 3:  France vs. Iceland:
France is the host and is the stronger team; having qualified to the quarter finals in 5 out of the last 6 last Euro Championships and they are the favorites to win the UEFA Euro 2016. Iceland is the surprise of this tournament, and it's not a fluke as they haven't faced weak competition, they outpointed England to get to the quarter finals and have proven they belong, yet they have never beaten France and this is their first time in the quarter finals of a major tournament. Odds for #FranceIceland:  France – 1 ½ + 120 // Iceland + 1 ½ -150 Taking into consideration the current odds, I like Iceland.
Four exciting games to bet on this week, the best odds to bet on the EURO 2016 can be found at AceSportsbook.com.