The Timberwolves head to L.A. to take on the Lakers
January 3, 2022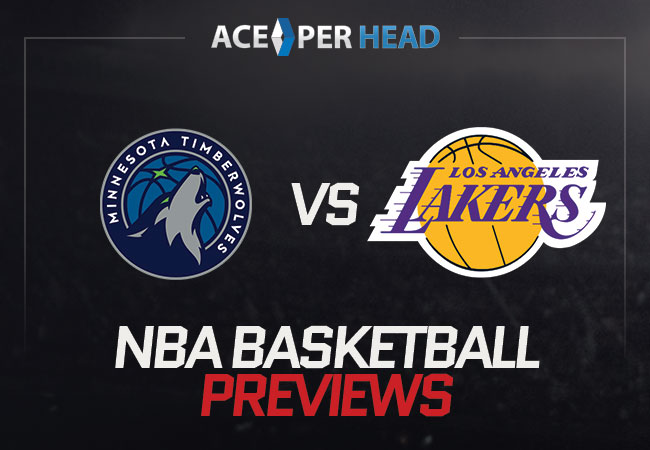 January 2nd , 2022 @ Crypto.com Arena
Los Angeles, 9:30 p.m. EST
The 9th place Timberwolves are set to take on the 7th place lakers for a Western Conference battle.
The Lakers and leader Lebron James have been struggling recently to find their groove, but recently had some luck beating the Trailblazers in their last effort, and "The King" managed to pull off a 43 point stride to seal the deal. The once-great champions of the bubble season in 2020 are currently playing with a sluggish record of eighteen and nineteen. But this Up until the game with Portland, the Lakers have been facing a drought, going four and six, in their last 10 games played. The only beam of hope for this Laker team is really LeBron. James the All-star small forward out of Akron, Ohio, has put up over thirty points in all of these recent games. He essentially is the offense but seeing all of these recent losses proves, he cannot do everything and carry this team to victory. Lebron's numbers have been impressive, almost averaging triple-double nightly. He has been doing this for years and seems to be the Lakers' last hope for success this season. But this team is dealing with injury issues as well, LeBron their "King" the guy for them, the one who calls the shots and is supposed to take them to victory is day to day with abdominal issues. They also took a huge hit when it was announced Anthony Davis will have to sit out another month due to knee complications. The Lakers will also be without Kendrick Nunn who also has a knee injury. Then Avery Bradley and Trevor Ariza are listed as day-to-day. The best players on this Los Angeles team are LeBron James and Anthony Davis. LeBron averaged 32 points a game, and Davis with 23 points, 10 rebounds and 2 blocks a game. Showing how he is an integral part of the Lakers' defense and always goes hard in the paint.
From the field, L.A. is hitting forty-six percent of their shots, and they allow 112 ppg, and they have been outscored by two ppg as well. Then as a team the Lakers recently have only managed to score 110 ppg (points per game), collect 45 rebounds, twenty-four assists, seven steals, and six blocks while on defense.
The Timberwolves are currently playing with a record of sixteen wins and nineteen losses. While averaging 108 ppg and are hitting forty-three percent of their overall shots, they are also amidst one of the worst COVID situations in the league.
Over the past couple of weeks, all of their stars have been sidelined due to contacting COVID-19. This breakout has really impacted this team's season, and you can tell by not only their record but their recent play. They are coming into this matchup losing four games out of their last five matchups. This is really upsetting to hear because this team was teetering over .500 before they got hit with COVID and had to deal with these protocols placed by the NBA. They had a very promising start and hopefully moving forward they can put this behind them, and get their guys back in action as soon as possible. The leaders on this team are Malik Beasley who puts up seventeen points per game and averages four rebounds. Then Karl-Anthony Towns pulls down nine rebounds nightly for the Timberwolves and drains twenty-five points per game on top of that.
Proving that he is an essential offensive and defensive weapon for this Minnesota team. Some of the players that have been out for this Minnesota team are Karl-Anthony Towns, Anthony Edwards, Patrick Beverley, Naz Reid, and D'Angelo Russell. They are all big names and essential to this team offensively and in the backcourt. The Timberwolves are hoping to get some of their talents back in time before this matchup against the Lakers, so they can play at somewhat full strength, it looks like Russell and Towns will be the only ones still out for this one. This Minnesota team is hitting forty-four percent of their shots from the field, while they give up 110 points per game to their opponents. Recently without their star power, the Timberwolves have been five for five in their last ten matchups, and as a team offensively they are draining an average of 109 points per game, they have collected forty-four rebounds, dished twenty-four assists, as well as amassing eight steals and five blocks per game while on defense.
This is going to be the 3rd time these teams tip-off this season, twice the Lakers have been bested by the Minnesota Timberwolves, as they won both matchups by double-digits. The last meeting was December 18th and Towns put up twenty-eight points for the win over L.A. . The Lakers are currently ten and thirteen in their Western Conference matchups this season, while the Timberwolves are eleven and twelve facing their Conference opponents.
This Minnesota Timberwolves team has a lot of young talent and they are fighting to become one of the most dangerous teams in the West, and if they succeed and defeat King James and the Lakers they just might be that. If either team gets this victory tonight it would be a tremendous turnaround and would put the victor right back on track where they need to be.
For this battle, I would go with the Los Angeles Lakers they have what it takes to get the Win over the Minnesota Timberwolves.
Minnesota Timberwolves Lines:
+8 -110
o 220 ½ -110
+285
Los Angeles Lakers Lines:
-8 -110
u 220 ½ -110
-345
Become a Sports Bookie Today
For those sportsbook agents who dream of creating their own bookie brand, Ace Per Head offers the perfect setup, you choose your domain name, and they will provide you hosting, and maintenance services for a small fee. Ace Per Head is the place where you can be your own local bookie for all your friends, family, coworkers, schoolmates, and social media friends.
Start building your bookie empire today by getting set up with Ace Pay Per Head.com's service that will allow you to book action on sports from all around the world.