UEFA's Final Four, Get your Bets in
April 23, 2016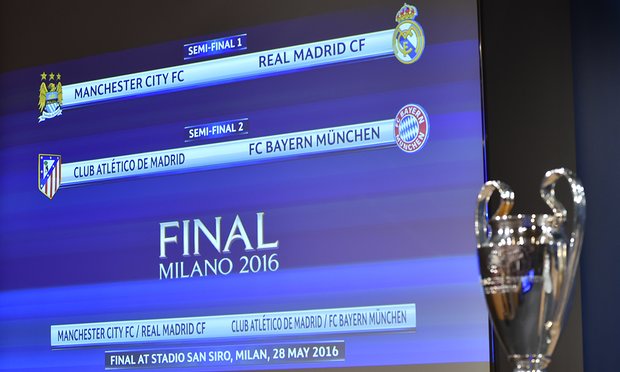 Only four teams and five games are left, the semi-finals of the UEFA champions are here, the first leg will take place April 26 when Manchester City will take on Real Madrid and April 27 with Atletico de Madrid facing Bayern Munich, the second leg takes place a week later on May 3rd and May 4th with the away teams being home.
When it comes to sports, anything can happen, no one expected Barcelona to be eliminated when in fact they were considered by many the favorite team to win the UEFA Champions. So if you are planning on betting on the UEFA Champions League final 4 you can either go with your gut instinct, stick with your favorite team, or do your homework and evaluate numbers and stats. Whichever strategy you choose to follow fact is you can't miss these games because they bring the level of excitement only the most prestigious football club competition in Europe can offer, and betting on the UEFA Champions League semi-finals will add adrenaline and can make you additional profit.
Will Bayern make it to the finals this time?
Atletico de Madrid's trainer, Diego Simeone, understands the challenge that lies ahead, being in the semi-finals is not new to his team, and this is the second time in three years that Simeone has made the final four, Atletico has one of its strongest figures in French forward Antoine Griezmann and it's, in general, a solid, hungry team with a tough defense, but they are facing the team that is currently considered the favorite to win the UEFA Champions League, Josep "Pep" Guardiola's  Bayern have lost in Spain in the first leg of the semi-finals in each of the last two seasons, but they have a dangerous offensive with the duo of Robert Lewandowski and Thomas Müller, and great goalkeeper in Manuel Neuer.
Odds favor Pep's Bayern Munich.
Since 1998, www.AcePerHead.com has been one of the pioneers in the pay per head business, enables bookies agents to set and operate their sports betting business online.
Two offensive teams meet
Even though Manchester City is a great team, it is considered the weakest of the last four, Manchester City's last two UEFA Champions League campaigns in 2013/14 and 2014/15 ended in the round of 16. Midfielder Yaya Touré and striker Sergio "Kun" Agüero are both key figures for City, Touré in his past career with Barcelona always meant trouble for "Los Merengues",  while  Kun has always had an interest in being signed by Real Madrid and this gives Agüero a chance of showing off his skills. City's goalkeeper Joe Hart has played a very important role all through the competition and this game will also allow him to showcase his talent, trainer Manuel Pellegrini knows his team has a tough match ahead when facing a very dangerous Real Madrid, Los Merengues have their "BBC" forward line going for them Gareth Bale, Karim Benzema and Cristiano Ronaldo are their strongest pieces along with goalkeeper Keylor Navas who will also have a busy game defending his team from the strong offense presented by City. Cristiano Ronaldo has 16 goals this season – one short of his own record for a single European Cup campaign which was set in the 2013/14 campaign; so he may very well break his own record.
Odds favor Real Madrid.
Ace Sportsbook offers the best odds to bet the UEFA Champions final four. Don't miss the opportunity to win some extra cash by betting on the Champions League, enjoy the great service and lines offered by AceSportsbook.com and add excitement to your favorite sports.
Best Bookie Service
If you are looking to be a successful bookie agent then you should give a call to the free bookie software provider in the industry, Ace Per Head, at 1-800-909-5193 and get set up immediately for a cost as low as $10 per active player a week.