Lines for
MMA
MMA is a sport that continues to grow in popularity despite being relatively new. UFC, Bellator, whatever it may be, there's new fighters every day and very competitive male and female matches.
Betting on MMA is very similar to betting on Boxing, the lines offered by sportsbooks are generally Money Lines that will let you know who the favorite to win the fight is, odds makers usually make that prediction based on the fighters' records and how the styles of each fighter compare. If there's a heavy favorite you are smart to stay away from that bet since usually you'll be required to lay a lot of money to win back a very modest amount.
Look out for live underdogs, the payout is great, check the records, their outcome in the last few fights and what their strength is, KO ratio, speed, ability on the mat or on their feet… it all plays an important role when you are looking to make a good profit.
Mixed Martial Arts Betting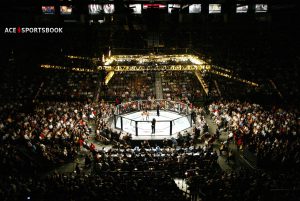 You can just place the outright bet on who you expect to win the fight or you can also bet on the different options provided by AceSportsbook.com; props for example such as: Will fighter x win by KO, submission or decision? Who will win the night bonus? Will the fight go the distance or no? Props are great alternatives to bet on a fight and they can turn out to be quite profitable. You can also bet the total OVER/UNDER, it works just the same as any other total, usually the total will be set at 1.5 and you can bet on whether the fight will finish before 1.5 rounds or go over 1.5
The lines displayed in this page are updated periodically, for the most resent and up to date lines make sure to log in to your Ace Sportsbook account.
Since we offer multiple betting lines for the same game, please make sure you read the tittle of the selected line to ensure you have selected the correct odds.
In the octagon anything can happen, so IT'S TIME!! Bet on MMA right here at AceSportsbook.com
To view another sport, odds here »
By clicking here, you'll find the latest Mixed Martial Arts picks, news and previews!
Check Ace Sportsbook's MMA gambling rules guide.