Last Opportunity, Lots of Pressure and a Tough Game Ahead
May 30, 2016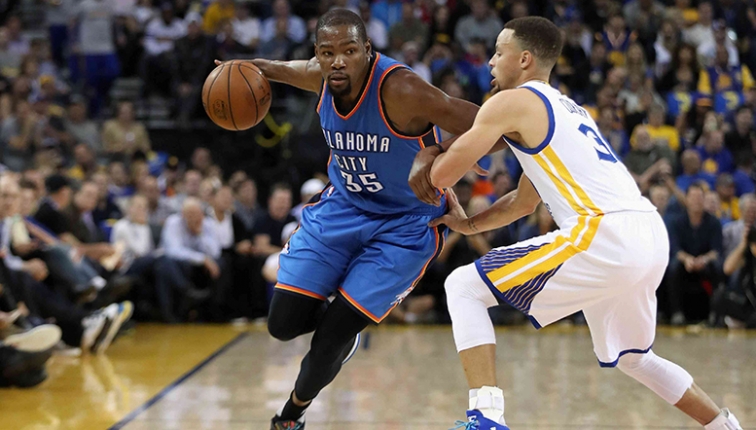 This is it, the seventh and last game of the series for Oklahoma City Thunder and Golden State Warriors, this Monday, May 30th these two teams have a last chance to be the champions of their conference and head on to the finals against the Cleveland Cavaliers.
The Warriors made honor to their name
Many of us didn't even consider the possibility of the Warriors being in this position being they are the defending champions and have the MVP in their lineup, and this is the first time since 1976 that the Warriors have been forced to a seventh game. However, we have to give them credit; they managed to tie the series after being down 3-1, and became the 31st team in NBA history in doing so.  History and statistics may not be in their favor, but here they are, they have managed to pull through and they seem determined to go after another championship, and they have the home advantage on Monday.
Oklahoma City let victory slip through its fingers, and psychologically this could affect them negatively or perhaps it could serve as the motivator they need to finally prove they are championship material.  Will they be able to bounce back from this? In order to do so they need to really go over what they did wrong in game 5 and 6,
Stephen Curry certainly made a difference in Game 6 and seemed to have finally recovered his rhythm after his injury, he managed to finish with 29 points, 10 rebounds and nine assists, another Warrior that had a great night was Klay Thompson who managed playoff-record  11 three pointers and scored 41 points.
For the Thunder, Kevin Durant scored 29 points while Russell Westbrook contributed with 28, all in all they both had off nights, but especially Durant who made just 10 out of 31 shots, the OKC may be relying too much in Durant, they need to get the team effort going for this final game and their defense has to be sharp, they have to control Thompson and Curry and that's no easy task.
Anything can happen in Game 7, if one thing is certain it's that the winners throughout this series have been the fans, it's been a series full of excitement and unexpected results. Warriors and Thunder have made it tough for the odds makers. For this seventh game the line has Golden State as a favorite at -7 and the total at 218. 52% of the bets are on the Warriors and 68% on the over.
After watching Golden State this past Saturday, I'm picking them to win. I'm placing my bets at AceSportsbook.com because they have the best lines and props to bet on NBA, and live betting on NBA which is awesome.