Thursday Night Basketball Feb 12th: Previews and Picks
February 11, 2021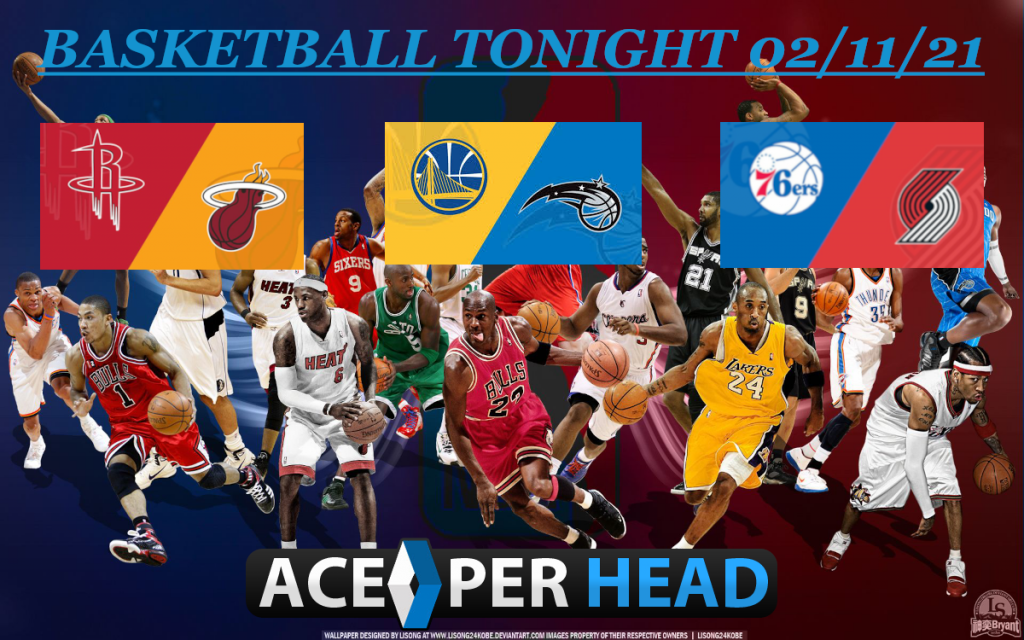 Miami Heat vs. Houston Rockets @ Toyota Center 7:30 p.m.
The Heat head to Texas to face the Rockets for a Thursday night showdown on the hardwood. The Houston Rockets are heading into this matchup with a record of eleven and thirteen, which isn't great but a common record range amongst teams in the league this season. They have lost four games going into this matchup and are spiraling down unlike, The Heat. In their last game the Rockets lost by twenty-five plus points, John Wall showed up by putting up twenty-five points, six assists and four rebounds, but is now listed as probable for this game.  Then another key player, Eric Gordon, with a matching one block and rebound, added twenty-three points and three assists. Additional players to watch are Sterling Brown and Jae'Sean Tate. This Houston Rockets team is strong but since losing Harden they haven't been great. It's an even match up and Houston could take it but they've been in a slump need to get out. The Miami Heat are going into this one with a record of ten and fourteen and are slowly getting into a good flow. Unlike their challengers who are going into this with four losses The Heat are on a three-game hot streak. Their most recent victory was against The Knicks, where they were led by Jimmy Butler and there is no one better than him in the NBA right now. Butler put up twenty-six points as well as ten assists, eight rebounds, two blocks and one steal. Tyler Herro is a key player for The Heat scored fifteen points, seven rebounds and four assists. The Heat have been hurt by some injuries Goran Dragic is still out with an ankle injury. With Avery Bradley and Chris Silva out keep an eye out for Kelly Olynyk and Bam Adebayo who put up double digits in points. This is going to be the first matchup between The Heat and The Rockets this season, our pick is going to Miami they are 1.5 favorites they are hot and are going to steamroll the rockets.
You can check out our NBA lines that are constantly updated at Ace Per Head.   
76ers head west to battle the Trail Blazers at 10:00 p.m.
The Philadelphia Seventy-Sixers head to Portland this Thursday to battle The Trail Blazers. Carmelo Anthony and The Trail Blazers are currently at a record of thirteen and ten and have been doing okay despite multiple injuries. They've won three of four going into this matchup, and it looks like there is no stopping them. Players to watch on The Trail Blazers are Enes Kanter their big man and Damian Lillard who have been sharing the workload while the team is handicapped. Both Lillard and Enes are guaranteed double-doubles or at least thirty points each. I believe once the Trail Blazers get back to 100% health, they will become one of the most dominant teams in the west and their record will keep improving. The 76ers have been rough to watch over the years, but they are a raging force this season. They are currently balling out with a record of eighteen and seven which is close to the Lakers which are one if not the best team in the league. They have the best record in the eastern conference, and I could see them making it far in the playoffs this year and I'd love to see them battle The Lakers for the Larry O'Brien Trophy in a seven-game series. Philly is one of the few teams in the east that have a record over .500 the team in third behind them is barely there. There are only a few teams that are really hot in the NBA right now but the 76ers couldn't be in a better position. They are without a doubt playoff contenders, and Joel Embiid could have an MVP in his hands carrying this Sixers team along with Ben Simmons like there is no tomorrow. Another key player that adds well to the mix is Tobias Harris and he contributes immensely to the team. Joel Embiid is also bringing a guaranteed twenty-five-plus point per game and at least ten or more rebounds with his fellow big man Ben Simmons. This 76ers team is definitely a ferocious one and a team people don't want to rush to play. The last time these teams went hard in the paint, The Portland Trail Blazers took the 76ers to school and beat them by sixteen points. This one is tricky because the Sixers have won six of their last seven games and are one of the most dominating forces in the NBA. The Trail Blazers, who are a strong team on the rise, also beat the 76ers already this season. Philadelphia opens this matchup at 4.5 point favorites and our Pick is going to the 76ers.
They have what it takes to win the game against the Spread, and you can check our lines 24/7 at www.AcePerHead.com.
Golden State Warriors host Orlando Magic at 10:00 p.m.
The Orlando Magic head west for a matchup with the Golden State Warriors, with this being their first home game after a road trip to Texas. The Warriors are currently at an underwhelming record of thirteen and twelve, but they are coming off of a win against the San Antonio Spurs. The Warriors are good at home this season with an eight and five record and are ready to keep adding to the W column. One of the key players for The Warriors is Stephen Curry, as always, he's their golden child and guaranteed to put up big numbers. Curry has an average of thirty points a game, Andrew Wiggins is supportingthe team with seventeen PPG. In order to reach success, I believe Golden State has to keep moving the ball the way they are, being third in the NBA for assists. When they get Klay Thompson back and are at 100% health, they'll be golden. Another player that'll make an impact for The Warriors is Kelly Oubre Jr.; he will put up at least thirteen points and play good fundamental defense in the paint. The Warriors look good in this Thursday night match up, but The Magic could be the underdogs, The Orlando Magic are going into this game with a concerning record of nine and sixteen, they are also in the middle of a road trip and are at risk of getting their third loss. Overall star for The Magic would have to be Nikola Vucevic putting over twenty points per game and double-digit rebounds. The Magic were looking promising, but due to injuries and lack of personnel they have been struggling. Aaron Gordon is listed as questionable and they need to be healthy to compete. For The Magic to have a chance, they need Terrence Ross to have a day. However, if he can make something happen and get more time, he can help make an impact and get this team out of this losing streak. They also need to begin shooting more accurately because they are shooting under fifty percent and only 105 PPG as a unit. If they want to compete with high scoring teams like The Lakers or players like Steph Curry, The Magic need to start shooting accurately and from long range more often. Sadly, this Orlando team is ranked third for least points in a game but have a defense strong enough to hold a team under 110 points. If you're looking to get in on this game whether a veteran bettor, rookie, or bookie why not use the best pay-per-head free bookie software from www.AcePerHead.com. Our pick would be to take Golden state with the over. Orlando needs to get out of this losing streak, but they don't have what it takes to get out of this one unscathed it's a long shot.
Golden State is on the rise and it's time for them to get into a rhythm. This game is going to be played at Chase Center in San Francisco, CA.