Boxing at the Forum: Golovkin vs. Wade and Gonzalez vs. Arroyo
April 22, 2016
This Saturday, April 23 The Forum in Los Angeles, California will be the scenario where Unified World Champion Gennady Golovkin will defend his world titles against undefeated, mandatory challenger Dominic Wade. If you like betting on boxing and are considering betting on #GolovkinWade keep reading.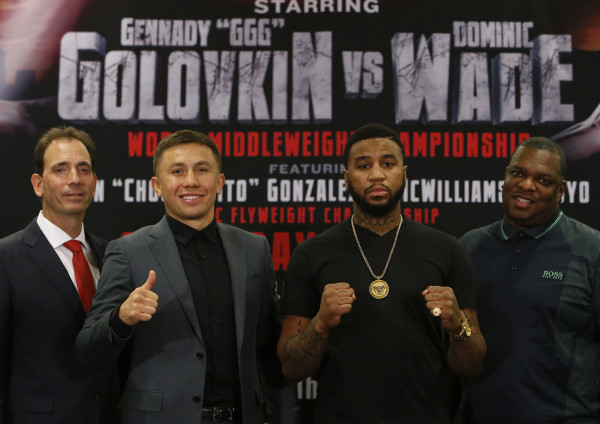 Will Wade be Gennady Golovkin's next victim?
All boxing followers know who Golovkin is; Triple G has 34 wins in his record 31 of these by KO, this knockout artist has become a fan favorite because he always delivers excitement in the ring despite being a "good guy" out of the squared circle, always showing his humble, kind personality to the press and fans, all these qualities combined have made Golovkin a safe bet for sponsors and TV networks.
But who is the man that will be in the opposite corner? 25‐year‐old Dominic Wade, has 18 wins, 12 of them by KO he had an outstanding career as an amateur and was a four‐time Junior Olympic Champion and a participant in the 2007 Olympic Boxing Trials; so basically a promising prospect that is now facing the biggest challenge in his career. The Maryland native had his last win (and not a convincing one) against former world champion Sam Soliman.
What boxing bettors want to know is… does Dominic Wade have a chance against "GGG"? In my opinion, NO, Wade is no challenge for Golovkin, and after facing and quite easily beating David Lemieux it's hard to imagine Wade giving him any trouble. Surely Wade has youth and reach working on his favor, and in boxing, anything can happen, but if we base our forecast on numbers, stats and past performances, Gennady is likely adding another KO to his record; needless to say, the Moneyline is extremely high if you want to bet on Golovkin and you are better off betting on the total over/under which currently stands in most books at 6 ½ rounds.
If you are looking to be a successful bookie agent then you should give a call to the free bookie software provider in the industry, Ace Per Head, at 1-800-909-5193 and get set up immediately for a cost as low as $10 per active player a week.
Nicaraguan superstar may steal the show.
In the co-main event to #GolovkinWade we'll have another pound for pound best, undefeated 44-0 WBC World Flyweight Champion Roman "Chocolatito" Gonzalez will face Puerto Rican McWilliams Arroyo who brings in a record of 16 wins (14 by KO) and 2 losses to this, his second world title opportunity, Arroyo is a tough opponent with decent skills, he likes to apply pressure and he has good power but Gonzalez is, in general, a better fighter with great defensive technique, so if you are thinking on betting on boxing this weekend, #GonzalezArroyo may be an interesting fight to consider, Arroyo at +1600 sounds promising … although there is always the fact that he hasn't faced someone at the level of Gonzalez. So again the over/under and proposition bets may be the way to go here, my prediction is this fight will go the distance.
If you want to check the boxing odds for Golovkin vs. Wade and Gonzalez vs. Arroyo, along with other boxing events, go to Ace Sportsbook Software, you are guaranteed to get great odds and great service every time.
Of course, the reality of matters is that we would much rather see Gennady Golovkin face the likes of Saul "Canelo" Alvarez and Roman Gonzalez in a rematch with Juan Francisco Estrada for a unification bout, and who knows, we may get out a wish and when that day comes it will be a great day for betting on boxing.
Both bouts will be televised Live on HBO World Championship Boxing® beginning at 10:00 p.m. ET/PT.
PPH Services
Since 1998, www.AcePerHead.com has been one of the pioneers in the pay per head business, enables bookies agents to set and operate their sports betting business online.