Create your Own Betting Website
March 8, 2021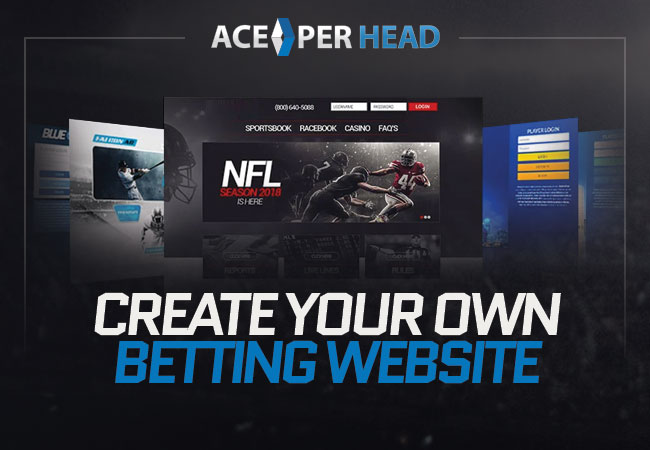 If you are looking to create your own betting website then the most affordable and efficient way to do that would be to get set up with a pay per head service. These services provide bookies with a betting platform that will allow their players to bet on various sports betting options, casino games, and racetracks. These services manage all the lines up to the second and grade all wagers as soon as each sporting event ends, and then all balances are automatically updated to both the player's individual betting account and the bookies' agent account.
Pay per head services have website URLs and skins that are ready to use as soon as you sign up and create your bookie account. However, some services do have the option to allow you to go the extra mile and get your own betting website created. One service that has one of the best promotions for creating a customized betting website is Ace Per Head.com.
Sign Up Promos
They have a special sign-up promotion where you would just need to deposit $200 and then you will be able to select the URL domain name of your choice and even your own logo. Then they will create this site for you based on your preference and it will be up and ready to use within 48 hours. The even better part of this promotion is that the $200 will actually just be used to pay the per head player fees, once your players start betting on the site, which means the customized site is actually a free site.
The beauty of having Ace Pay Per Head create your own free betting website is that you can then personally market it however you like since it is your own website. You can start by making business cards with the logo and domain address of your new site and even a demo account so potential players can in real-time look at exactly what your betting site has to offer each day. Giving out business cards can begin with all the people you know such as family, friends, coworkers, schoolmates, and social media friends.
In addition, you can do online marketing on various social media outlets and other websites to market your newly created website. It's a great way to get exposure to your new site and gain new players. In the world of betting, players always lose over the long term, so the more players you have betting with you on a regular basis then the more money you will earn overall.
In addition, Ace also has the ability to create more detailed customized betting sites, such as sites that have a signup page on it where a new player can sign up right on the site and have a unique user account set up immediately upon filling out the signup form. Then the bookie will receive an email immediately upon the players sign up with the player info and can contact that player directly.
Payment Methods
Also if you have your own processor of payments such as a credit card processor, or want to accept cryptocurrencies for payments that are another feature that can be added to your customized site. These two features do have a one-time additional cost for them, but it can vary depending on how detailed you want it to be on your website.
So give Ace Per Head a call today at 1-800-909-5193 and have your very own betting website created today.