How To Choose A Betting Site?
May 25, 2022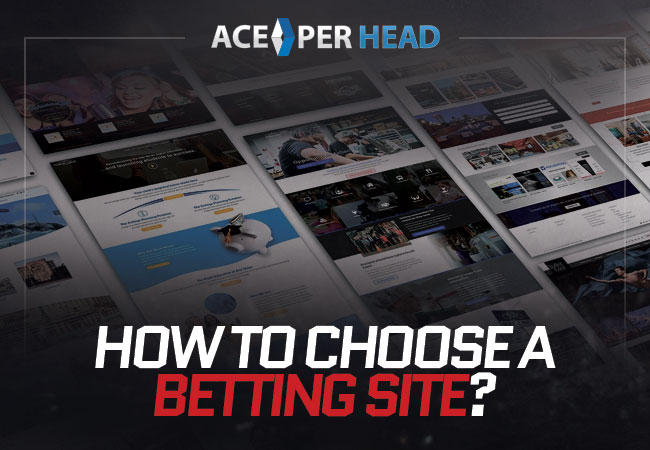 Want to bet online but don't know how to find the best betting site? Here is a complete guide explaining just that.
Globally, the sports betting business is estimated by Statista to be worth $203 billion annually. The global sports betting sector engages 197 thousand individuals, and there are already more than 31,000 sports gambling enterprises in operation globally. Currently, sports gambling in America is estimated to be worth $10 billion.
What makes this figure stand out?
There are still places in America where sports gambling is still banned. Sports gambling in America has been given the green light by being legalized in all but three states, paving the way for its widespread adoption.
Considering the current state of affairs, it's safe to say that the sports gambling sector is worth far more than has been stated.
That's why it's no surprise that so many self-employed people, small business owners, and experienced entrepreneurs are flocking to participate in the lucrative sports betting market, which is experiencing remarkable expansion globally. Choosing a bookmaker can be a challenge for today's internet gamblers, as there are so many options available to pick from.
There are a plethora of sports betting software websites to choose from, each with its own set of advantages and disadvantages. With so many alternatives accessible, you're likely to feel overwhelmed. However, there is no need to worry. We've gathered a great deal of research and information for those people who would like to take a moment to choose the best betting website for them.
Here, we'll walk you through the steps of selecting a sportsbook, including what criteria to search for and a few more pointers that will help you find what you want. After reading this guide, you will possess all the information and tools you require to make a rational assessment of which bookmaker is ideal for you to place your bets on.
Please take some time to review what we've put up for you here before making a choice, especially if you intend to take your online gambling very seriously. Let's dive right in.
Steps To Choosing The Perfect Online Betting Website
1. Know What You're Searching For
Having an idea of what you want and expect from your online sports gambling experience is critical for success. Are you only interested in placing bets on one or two tournaments? Are you interested in turning sports betting into a full-time job? Do you want to wager on a single sporting event or a slew of events? As soon as you know what you want to achieve with your online betting site, selecting the ideal one becomes a lot easier.
It's fine if you don't know exactly what you're searching for. We'll go through the qualities we value in a top-notch online betting site in the upcoming paragraphs. You can use this list to help you think about what you want.
2. List Down Your Deal-Breakers
Once you get a basic notion of what you want, you have to identify your deal-breakers and must-haves. This is a list of items that you can't do without. With this knowledge, it will be easier for you to rapidly eliminate betting websites that don't meet your standards. For instance, you may place a high value on being able to wager on every game of NCAA Division I football that takes place. This is most likely a deal-breaker.
You won't be interested in using an online betting website until they offer you action on all college games. Or perhaps you only wish to utilize Apple pay or Paypal to finance your account and make withdrawals. Then you won't be concerned about a betting site that doesn't provide these methods of deposit.
If you're not particularly demanding, there's no reason to trouble yourself. On the other hand, there's no need to give up on something vital to you. There are dozens of sports gambling websites to pick from, and some of them are really high-quality. You must never feel obligated to compromise for choosing anything less than your ideal website.
3. Short List The Betting Websites That Appeal To You
Now that you know exactly what you want, it's time to narrow down the pool of choices. If you're looking for a place to start, go no further than the sites suggested by numerous online betting services. Try searching for a sportsbook rating page that breaks down the sportsbooks by area, characteristics, and sports if neither of the above choices works for you.
If none of these options appeal to you, you could always look at the sportsbook reviews section, which has reviews of virtually every betting site worth considering for your gambling needs. Take a look at these pages and pick out four or five sites that catch your eye. If you find anything that immediately appeals to you, go for it. We do, however, urge that you conduct some research to ensure that you get the best possible site for your needs.
4. Read Their Reviews Online
It's time to decide once you have narrowed down your list of suitable online gambling sites. Make sure they don't breach any of the deal-breakers first. If this is the case, take them off the list. Next, spend some time reading through other people's opinions of the website. Then, we strongly encourage you to visit each site and see what it offers.
No, we're not talking about making a deposit and placing a wager. If any of the websites is bad, you don't wish to keep your money there and risk being kicked off. However, most online betting sites will let you browse the website and do everything but place a wager without creating an account.
Try it out and see how it feels. Explore the simplicity and difficulty of placing a bet. See what kinds of sports and wagers they have to offer. What do you think of the site's usability and whether or not you'd feel at ease there? These are important factors to consider as they play a significant role in the next step, which is deciding upon the online betting site you want to go with.
5. Decide The Online Betting Site You Wish To Use
Make a choice once you've completed all of your analysis on the sites on your final list. Get started right away on the website that you prefer the most! Just remember, there is no year-long contract or anything of the sort here. Even if you sign up for an account with one betting website and decide you don't like it, you can simply take your money out and start again somewhere else.
Features To Consider When Choosing An Online Sports Betting Site
In the absence of extensive knowledge, you may be unable to distinguish between what is acceptable and unacceptable. Our specialists have been betting online for years and have placed hundreds and thousands of wagers. We understand what to look for and what to avoid when it comes to betting, and we're here to help you. If you're looking for anything specific, we can undoubtedly guide you on the right path.
We've compiled a list of the most crucial factors to consider while selecting an online betting site. While not every one of them may be crucial to you, we're confident that a significant portion of them will. This list is intended to assist you in determining which criteria are most relevant to you. Let's take a look.
1. Sports Offered
It is important to know what sports an online sportsbook software offers wagers on right off the bat. As long as you're betting on a major league, you can anticipate finding coverage at almost any betting site. However, if you're a fan of other sports, you'll want to watch out for the degree of activity they provide.
For every sport, you'll want to check out the number of options available to you. A few online betting sites simply cover the highlights of the sporting calendar, offering bets on the biggest events only. However, other sites cover every sport every weekend.
2. Betting Options
In addition to the factors mentioned above, you should ensure that the sports betting website offers the types of wagers that you want as well. If you're just starting and have no idea what kinds of wagers you'll be placing, this isn't going to be a major concern for you.
For those who are particular about their preferences, we suggest looking for them in an analysis or on the website. If you can't place the bets you want on a game, having coverage doesn't mean anything.
3. User-Friendliness
Most online betting sites appear to be nearly identical in almost every other way, except for one thing: user-friendliness. Basically, we're referring to the ease with which you may sign up for an account, search for bets that interest you, and place your wagers. One of the major advantages of online betting is its ease of use. Therefore, while evaluating online betting sites, this is among the most significant factors to consider.
4. Level Of Security
The site's security measure is the next most critical consideration. Each time you place a wager on a sportsbook, you're engaging in many transactions. A few websites ask for your credit card and bank information as well. Only after you've thoroughly investigated the website should you provide such personal details.
A trustworthy betting site ought to have a robust security mechanism, and payment security should be of the highest standard for all gamers who use it. Inspect the website's transaction security certificates before you begin betting. Make sure that they are utilizing secure domains and that their systems have been encrypted.
You should look for a site that accepts safe payment options such as Paypal, Trustly, Mastercard, or Visa. Using these is the safest way to make a transaction online.
5. Robust Customer Support
Good customer service is expected from a competent betting site. Ensure that the sports betting site you choose has a decent customer care department before signing up. You'll want to be able to receive aid whenever you require it.
To get in touch with customer care, most sportsbooks offer live chat and toll-free phone numbers. Beginners and seasoned bettors alike never know when they'll need some extra guidance or assistance. A good customer service team can make a big difference in this regard.
6. Sign-up Bonuses
You should also think about the site's exclusive offers. Take a peek at their current promotions. This will help you determine whether the website is worth your attention. There is a slew of additional deals available at nearly every betting site. Welcome bonuses for new members are among the most prevalent examples. Some websites offer complimentary wagers, while others offer cashback.
All of them may sound fascinating, but one should always review their guidelines before completely counting on them. You can never tell if a deal is too good to be true unless you check out other betting websites; you'll find several promotional deals. You should reap the benefits of these promotions, but you should also be cautious.
Online sports betting websites that don't cover the things mentioned above should be avoided as they are usually inferior and aren't the best sportsbook platform out there. However, this could change if they decided to tune up their sportsbook software, and there's no one better in the market than Ace Per Head for that. We are one of the best sports betting software providers out there, undoubtedly.
Other than being known for our high-quality and robust betting software, we are also quite famous for our top-tier Pay per head services which are available at very affordable rates. Whether someone needs casino software to be developed or soccer betting software, we can do it all.
Get in touch with us right away, and let us help create a sports betting website that will blow away your competition.