NBA Friday Night Basketball – Feb 19, 2021
February 19, 2021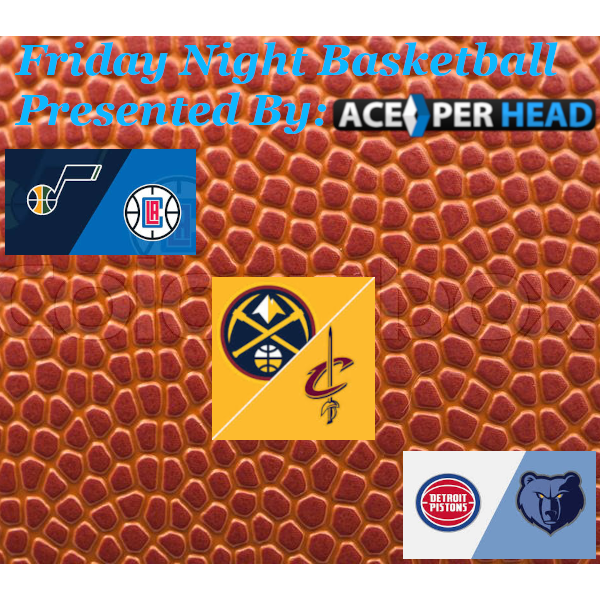 Detroit Pistons head to Memphis to face Grizzlies
8:00 p.m. @ FedEx Forum
The Memphis Grizzlies host The Pistons for a Friday night exhibition match. The Grizzlies are playing with an even record of twelve and twelve and have gone back and forth pretty much since the beginning of the season. Their most recent victory was against the OKC Thunder, a key player in this Victory was Ja Morant who put up a triple-double. Morant is definitely the guy for this Memphis team leading them to multiple victories and helping on both sides of the court. This Memphis Grizzlies team is confusing on paper as far as their record goes, but they are an exciting team to watch and bet on. At full health, The Grizzlies have a powerful lineup with the likes of Jonas Valanciunas, Ja Morant, and Jaren Jackson Jr., but Jackson Jr. is out so Memphis on a crutch. If the Grizzlies can play consistently and stay on the prowl til Jackson Jr. gets back into the lineup, this team can make a comeback and be deadly towards the end of the season. Even though The Grizzlies aren't where they want to be, their challengers are in a way worse position.
The Detroit Pistons are currently at a disappointing record of eight and twenty with only won two games on the road. This season has been nothing but embarrassing because they need to play better as a unit and take this season to just rebuild and find themselves. They however have won three out of their last five games and it would've been four, but they lost to The Bulls in a close one. There are other factors that have affected this Detroit team negatively, such as Blake Griffin asking for a trade, so now due to backward league politics, he is sidelined. But due to this, has given other players the ability to get noticed and time on the court. Some players that have shown up for Detroit in Griffin's absence are Mason Plumlee and Jerami Grant. This team is struggling and needs to focus on this rebuild and honestly, their season was over before it even started.
Last season when these teams played Memphis swept Detroit, our pick would have to The Memphis Grizzlies are going into this matchup as favorites, they are just in a better position as a team and still have a fighting chance.
Utah Jazz vs. Los Angeles Clippers
10:00 p.m. @ Staples Center
The Utah Jazz are set to challenge The Los Angeles Clippers for some Friday night basketball action as The Jazz chase a twenty-one game win streak, trying to turn this season into a title run. The spread on this game has Utah at 2.5-point favorites. The Los Angeles Clippers are currently one of the most dominant teams in the NBA with a record of twenty-one and nine. Going into this matchup, they recently lost to The Jazz, and this isn't anything to be ashamed of because The Jazz are the best team in the league and The Clippers are handicapped without league all-stars Kawhi Leonard and Paul George. It's a huge hit to this Clippers' team not having these two in the lineup. However, these injuries don't seem to be too serious, as Kawhi might even make a return in this game. This team is ring chasing. They aren't trying to just win games and have a good season, they are trying to finish and dethrone their neighbors, The Lakers, who are the reigning champs. Their eyes are on the prize, so in order to reach the finals, they have to win games in the playoffs, and the only way to do this is stay healthy. If they are able to get this under control now and stay healthy in the rest of the regular season, then the playoffs should be smooth sailing for them on their championship quest. The Utah Jazz are on top of the National Basketball Association with a record of twenty-four and five and are killing it, as they are looking get their twenty first win out of twenty-two.
This is an impressive feat because this means since the beginning of January, they have only lost a single game. This Jazz team is handicapped without Mike Conley on offense due to an injury, but he might make a return tonight. However, they've been just fine without him, winning eighteen games with over double digits in points. Led by all-star Donovan "Spida" Mitchell, this Utah Jazz team is number one in the league for rebounding as well as number one for point differential. They also share the ball well and rely on the center to get it to the rim and do it better than any other team in the league. This game is going to be a close one to call and an exciting one but our pick at www.AcePerHead.com is going to The Utah Jazz. The last time The Utah Jazz and The Los Angeles Clippers played, the Jazz were victorious 114-96 and The Jazz won nine out of eleven games against The Clippers.
Not only are they a fun team to watch, but they are also an extremely good team, and they are on a championship run looking like The Spurs the last time they won the NBA title. The Utah Jazz is a powerhouse and has what it takes to seal the deal in this game and end the season as champs.
Cleveland Cavaliers host Denver Nuggets
7:00 @ Rocket Mortgage Fieldhouse
The Denver Nuggets head to Ohio for a showdown against The Cleveland Cavaliers this Friday night. The Cleveland Cavaliers are about to play four games straight at home and are currently playing at an underwhelming record of ten and nineteen. Going into this game they are looking to improve their home record and get out of this terrible eight-game losing streak they are in. A star player for the Cavs is Collin Sexton who averages twenty-two PPG and is shooting forty-eight percent. Additional support comes from Andre Drummond who puts up seventeen PPG and thirteen rebounds. Another key player to keep an eye on is Darius Garland, who puts up a guaranteed fifteen points for the Cavs. This team is rebuilding but they have some talent, so if they hope to break this losing streak they need to score more. Because they are second-fewest in the NBA for points, they need that average to go up because 103 PPG isn't going to cut it. Also, they let their challengers shoot forty-eight percent from the field and give up an average of 113 points. If they hope to return to a playoff-caliber team, they need to clean up their act on both sides of the court.
The Denver Nuggets are currently playing with a record of fifteen and thirteen, and are in the middle of a road trip in which they suffered their most recent loss to a struggling Washington Wizards team. It was a rough battle down to the last second where they lost at the foul line and going into this game, they look to improve their road record which is tied up right now at seven and seven. A star for this Nuggets team is Jamal Murray who is clutch in the final minutes of play and puts up big numbers for this team. Not only did he sink three-pointers with ease, but he put up thirty-five points, nine rebounds, and six assists. Also, keep an eye out for Michael Porter Jr. and Nikola Jokic who put up huge stats for this team. Jokic having a night on Wednesday with thirty-three points, nine assists, seven rebounds, and two steals. But it wasn't enough to give The Nuggets the W, without Paul Millsap on the hardwood, this team is taking a hard hit on defense. If they want to be playoff contenders, this season The Denver Nuggets are going to have to pick it up on defense and make something happen.
Millsap is questionable but if cleared for the play he can definitely be an asset to this team. With how poorly Cleveland has been playing our pick at Ace Per Head.com is going to The Denver Nuggets who are the favorites going into this contest.