States With Legal Sports Betting
December 27, 2021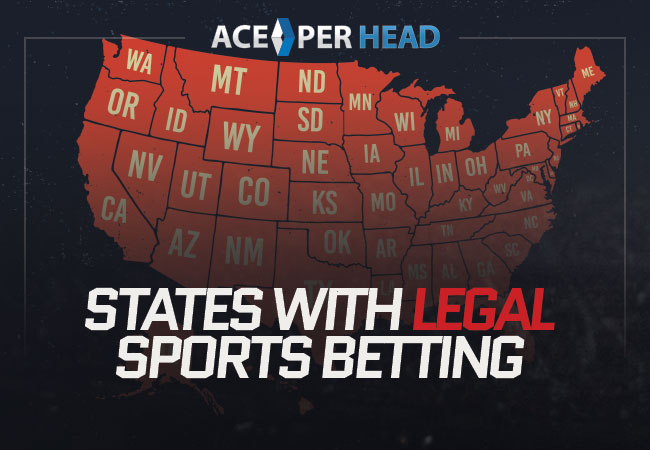 The United States is one of the biggest countries in the world. With there being 50 states in America, each one has its own sets of laws and regulations.
The sports betting world is no exception to this in the US. Near the end of 2021, about 32 states have sports betting sites legal in some capacity.
Questions you might have could include what are the States With Legal Sports Betting? Is the country close to having it legal in every state? Do the states that do have it legalized have the same rules?
These are the main things that you need to know about states with a sports betting platform in America.
Completely Legal States
When it comes to sports betting, the majority of the states that have it legalized allow you to do so in any capacity. What starts to get controversial in other states is if you can only do it online or only do it in person. Pay Per Head Casino Services.
At the end of 2021, there are 11 states in the country (plus D.C.) that have betting online completely legalized with several options for you to choose from. These states include:
Arizona
Colorado
Connecticut
Indiana
Iowa
Michigan
New Jersey
Pennsylvania
Virginia
Washington D.C.
West Virginia
Wyoming
What this means is that these are not only states that have options for you to bet online but they are also ones that provide plenty of sportsbooks for you to choose from. If you live in one of these states, these are basically ones that require the least amount of red tape for you to create an account with an online sportsbook to get started with your bets.
The best part about these 11 states plus Washington D.C. is that you also have options to place bets in person. Say you are having a night out on the town in a casino and on top of playing the table games, you want to make a sports bet.
Well, in these states, they have in-person setups not only in the casinos but also sometimes in sports arenas where you can go place a bet and be handed a physical receipt. Top casino business for pros.
Some people like this as an alternative option to avoid having the temptation of placing bets on a regular basis. Others may prefer to not have to leave their personal information such as a bank account number on sports betting apps.
In these states, you truly get the best of both worlds.
In-Person Only States
Going off of the above, in certain states in the country, the only option that you have for sports betting is to go do it in person. The states that only let you bet in person are the following ten:
Arkansas
Delaware
Louisiana
Mississippi
Montana
New Mexico
New York
North Carolina
North Dakota
Washington
That does not mean that these 10 will permanently be limited to in-person betting. For example, New York is set to launch online sports betting by next year. Louisiana also seems to have legislation that is being set up to allow online sports betting in the state.
In other states, it may not be as optimistic to have online sports betting. An example of this could be Delaware because they were one of the first states to legalize sports betting after Nevada. Maximize Your Winnings With Pay Per Head Casino Services.
What this means is that you can go to a casino, a racetrack, or even a sports arena to place your bets. However, you are not going to be able to access sports betting from a mobile device in these states.
As stated above, an argument that some states make for only having it in person is because there can be more control over the number of bets that you make by only having it in person. Realistically, you can make a bet any time you want at the click of a button online, whereas you have to make the effort to drive to a physical location to do it in person.
This theoretically sets limits as to how much people in the state will bet and it could be a reason why some only limit it to this capacity.
States With Special Cases
Now, there are a handful of states who do technically have sports betting legal that have special rules about how it can be done. A perfect example of this is the state of Florida.
Recently, there was a federal court ruling that banned online sports betting in Florida. Instead, sports betting could only be done in person.
This became an issue when the Seminole tribe tried to launch online sports betting app within the state that would allow users from Florida to be able to bet from anywhere in the state. However, the courts argued that the written permission that the tribe had to create their sportsbook was only legal with bets placed on their own land.
That basically means that to have legal sports betting in the state, it has to be done on tribe land rather than betting online. It has sparked controversy and debate in the state of Florida, and it is one situation where the exact laws of sports betting legality can get complicated. Top online casino software service.
Two other examples are the states of Illinois and Nevada. While you can bet online with plenty of options in these states, you have to go in person to create an account with one of the sportsbooks before you can start betting on those platforms.
Then, there is Tennessee who only has sports betting online. This is somewhat unintentional because technically, there are no physical casinos in the state for people to place their bets with.
On top of all of this, there are a handful of states including Oregon and New Hampshire that have very limited options for where you can place online bets. In both of those states, there is only one online sportsbook available for those users.
States Close to Legality
Of the 18 states that have no type of online sports betting legal, about half of them seem to be closer to legalizing it than the other half. These nine states that appear to have momentum shifting towards legality include:
Alabama
Georgia
Kansas
Kentucky
Maine
Massachusetts
Missouri
Ohio
Vermont
The closest state on this list to legalization appears to be Maine. This is because it was actually passed by the state legislature here but now needs the governor's signature to sign off on it. However, Maine's state governor vetoed online sports betting bill so for now, it is back to the drawing board there.
Then, there are states such as Massachusetts, Ohio, and Vermont that are actively considering legalizing it under state legislature. Something that could favor momentum in these three states is that they are surrounded by states that generally support sports betting. Service for online casino bookies.
The other five states do seem to at least have some vocal supporters of legalized sports betting in their states so 2022 action remains possible, but they are a step behind the other four states.
Three other states have passed laws to legalize sports betting but are still waiting for it to launch. These states include Maryland, Nebraska, and Wisconsin.
Other Illegal States
Finally, there are nine other states where sports betting is completely illegal and there does not appear to be any momentum to make it legal in these areas soon. The nine states in this category are:
Alaska
California
Hawaii
Idaho
Minnesota
Oklahoma
South Carolina
Texas
Utah
If you look at some of the other laws in these states, you can see why those appear on this list. The ones that seem to have a little bit of hope that come from this list include California, Minnesota, and Oklahoma. How to Choose the Best Pay Per Head Casino Service.
This is because those three states could consider legalizing sports betting in tribal areas with casinos. However, with the situation in Florida playing out right now, these states could wait to see how that plays out before going any further.
Texas legislature only meets in odd-numbered years, so that state would not be able to present anything until 2023.
The biggest longshots on this list to ever legalize sports betting are Hawaii and Utah. Why is this? Because they are currently the only two states without any sort of legal gaming form in the country.
Use States With Legal Sports Betting
While some states may be hopeless to have sports betting come to them, you can take advantage of states with legal sports betting. You can do this as a bettor or even as an aspiring sports bookie.
Do you want to know more about that option? Start a six-week free today!