The Best Bookmaker Software of 2021
September 16, 2021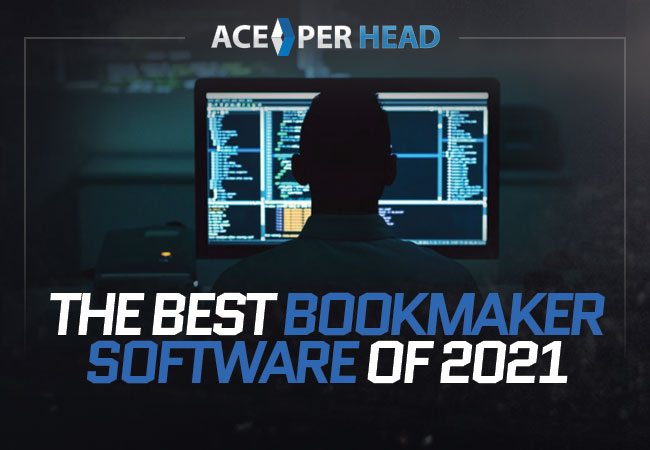 Did you know that Americans can invest $3 million in sports betting in a single month? With the growing legalization of sports betting, a huge market has opened for entrepreneurs looking for lucrative business opportunities.
If you're one of these people looking to take advantage of an awesome expanding market, you likely are wondering how to choose the best bookmaker software to fit your needs.
Here, we're going to take a look at the features and solutions required to grow and expand a successful sportsbook. Read on to learn what you should look for in a sports betting platform and to learn why Ace Per Head is the best choice for bookmakers in 2021.
Flat Fee vs Pay Per Head Technologies
When setting up a bookie website, you have two main options for pricing models. The first is a flat fee model in which you pay a certain amount of money once a month or year to access online bookie services. The cost is the same year-round and does not account for changes in the sports betting market over the course of a year.
As you can imagine, this poses potential problems for bookies during the off-season. You shouldn't be paying $500 to access your website and features during slow betting seasons just because that's the price you paid to keep bettors coming to you during the World Cup. At some points, you're inevitably going to be putting more money out than you're reeling in.
Pay per head (PPH) solutions are designed to solve this problem by providing a scalable and flexible alternative. You pay a small fee of around $10 for each person who's actively placing bets with you. This fee may go up to $15-20 if you choose to access additional features, but the prices never go too high.
You only pay for the bettors that you're working with, so when people go away during the off-season, you no longer will need to pay for them. This means that you'll never be spending more money than you're making. Your business can then be as lucrative as you're willing to make it, meaning that you may eventually make $50,000-$100,000 per week.
The bottom line? Make sure that the platform you select operates under a PPH model. Your wallet and your players will both thank you later.
Choose Mobile-Ready Technology
Currently, about half of the people around the world primarily access the web on mobile devices. By 2025, that number is expected to increase to around 72%… and these users will exclusively be using their smartphones to get online.
If your site is optimized primarily for desktop, it's unlikely that you can remain competitive in the large sports betting market. People don't just want the convenience of a smartphone app- they expect it. You need to invest in a fully mobile-ready PPH software if you want to draw bettors to your site.
Make sure that you choose a PPH platform that has a mobile interface like Ace Per Head offers. You don't want your business to be forgotten before it has the chance to explode.
Questions to Ask Before Choosing a PPH Service
Now that you know how to select bookie software based on the pricing model, there are still some questions that you need to ask yourself.
The first is how much time and effort you plan to put into your bookie business. You want a platform that can work with your needs regardless of the size of your sportsbook. If you want to make a living with fewer bettors, you'll want a website tailored to the specific small audience that you've reeled in.
Having a well-tailored small sportsbook now helps you to rein in a niche audience. For example, if you just want to offer racing and football betting, you need a provider who can help you grow and succeed in that small area.
The second question to ask yourself is whether or not you plan to expand. If so, you need a provider who's willing to help you grow your sportsbook over time. This means finding a fully managed service that's willing to communicate and work with you as you grow.
Next, consider the level of control you want over your sportsbook. You need a provider that lets you control your website, how it looks, and how it operates. You also will need to make sure that you'll retain control over your lines, limits, bets, and players.
This may sound easier said than done, but Ace Per Head allows all of these things and more to take place.
Ace Per Head: The Best Sports Betting Platform on the Market
Ace Per Head is a PPH provider that's willing to work to meet your individual needs. This begins from the conception of your business. The moment you reach out to our experts, we'll get you started with a website that appeals to you as a bookmaker as well as to your players.
We offer a plethora of different templates that you can choose from and make your own. However, if none of them are on-brand for you, that's fine- we're also able to help you set up a completely custom website that fits your unique vision.
This means giving you awesome branded imagery. It also means connecting your page to score tracking sites and multiple payment methods. It also means communicating with you through every step of the process to make sure that your webpage perfectly fits your vision.
Security is also a top priority for Ace Per Head. We allow you to pay us in untraceable bitcoin and recommend that your clients also pay you with crypto. This means that in the unlikely event of a breach, there will be no available information for unauthorized users to get their hands on.
Since we're hands-on about communication, we also have a system to keep you and your players anonymous when you call support. All bookies and players will be assigned random numbers and be associated with those numbers.
You never need to tell us your name or any personal information when you work with us. Your players also won't be expected to do so when they call our 24/7 player assistance hotline. This keeps everyone feeling safe and secure when placing and receiving bets.
Top Software Features
Ace Per Head also offers the features that matter most to bookmakers. These features coexist with security measures and our round-the-clock agent and player hotlines.
The first feature you'll want to discuss with us after building your website is how to keep track of scores and bets. People on both the agent and player end of your PPH website need to see how much money has been put down on specific sports, events, and players. This transparency keeps everyone on the same page and ensures that there's no dispute about who owes who money.
Keeping track of bets (and cashing out on these bets) also means that you need to track the scores that people have bet on. While traditional bookies must do this manually, those who work with Ace Per Head can link their site to score tracking software. This will automatically update you and your players of scores associated with bets so there's no confusion.
Automated updates are another feature Ace Per Head offers. If you were to build a website on your own, you would need to perform updates manually on your own. If you didn't do so frequently enough, you'd lose business because players would find you sloppy and out-of-date.
Our experts constantly are optimizing your site to make sure that it runs quickly and smoothly. We also are always looking to keep up with recent design trends and make work with you to constantly achieve an altering vision. This means that your site will remain appealing over time no matter what.
Invest in the Best Bookmaker Software Today
While choosing a PPH platform may sound like a challenge, it actually is a fairly simple task. Ace Per Head offers all of the features that your new bookmaking business needs to grow. With transparent fees and no hidden costs, we also will ensure that you don't spend more than you're earning at any given time.
Now that you know how to choose the best bookmaker software for your needs and feel confident about your decision, it's time to get started. Determine what your custom package should look like and reach out to experts with any lingering questions that you have. At the same time, you can also schedule a software demo of our mobile-ready platform to see how Ace Per Head can best help you to thrive.