Total Talk: What Does It Mean to Bet the Total?
November 10, 2021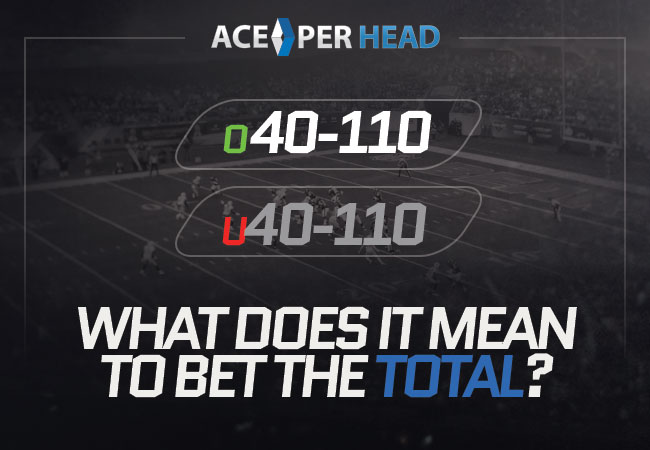 Sports betting. It is becoming a very popular hobby from the casual bettor to the advanced veteran that has eyes on every game.
The scene will only continue to grow, as the global sports gambling market is expected to be worth about $180 billion by 2028.
For sports betting to continue to grow, you need plenty of options for people to bet on.
Two of the more popular options for people to bet are the point spread and the money line. But, if the two teams are about even in your mind, is there anything else that you can bet on?
Yes, there is. A good alternative for you in this situation would be to bet on the point total in that game.
How does it work to bet the total? Is it a good bet? This is your guide.
What Is the Point Total?
The point total is the combined number of points scored by both teams in a game. In hockey, it would be the combined number of goals scored by both teams and in baseball, it would be the combined number of runs scored by both teams.
When it comes to betting on this, most sportsbooks will put out a number that is aimed at trying to get half of the bettors to bet one side and half of the bettors to bet the other side.
That number would be the over/under that you would have to bet, meaning that you are betting on the game having more than that total number of points combined between the teams or having less than that number total.
When Is It Best to Bet?
For most bettors, the first option for them to place a bet on a game is either the point spread or the money line, depending on the sport and whether they are backing the favorite or the underdog.
But, if you are a bettor, you are likely going to run into a game where the line is too close to call.
Let's say for example that you are having a hard time deciding who to back in the battle of Ohio in the NFL between the Browns and the Bengals. They are separated by the home team being a three-point favorite, which essentially means that the teams are looked at as even.
Well, if you still want to have some action on the game, this would be a good spot to look at the point total. In this example, that is about 47 points, so if you think the final score is going to hover somewhere around 27-24, then you would want to look at betting the over.
Another time that this would be a good bet is if you are following a team that is hard to predict against the spread but you have a much better read on how many points they typically score. One example of this would be the Denver Broncos, who are about even against the spread but have a lot of their games in the 2021 season go under the point total.
In that situation, you might look at betting the under as a better option in a Broncos game than anything against the spread because it cashes in more often.
Team Trends
This ties into the last paragraph above in that sometimes, a team trend gives you the best idea of when this is a good bet.
Another example here would be the Seattle Seahawks in 2021. Through their first eight games, each one that they have played in has gone UNDER the projected point total. Against the spread, Seattle is not bad at 5-3 but the better team trend in this situation would be to bet the under in a Seahawks game.
Team trends are important because they can make or break a good situation to go after a point total and a good bettor is going to be aware of what direction these teams are going.
In the above example, you saw that the Broncos are one of the most reliable under bets on the board but you have to factor in both sides on these bets because what if they run into a team like the Dallas Cowboys who have the league's best over record?
You need to be aware of situations like that on both sides of the bet rather than blindly following one side. Good bettors are adaptable, and following team trends will help keep you on your feet as a bettor.
Sudden Changes
A good time to look at a point total bet is when there is a sudden change to a game that results in previous trends for that game going out the window.
In the sports betting world, two main things cause this. The first is an injury to a player with an unknown taking their place.
One big recent example of this at the time of writing was when Aaron Rodgers tested positive for COVID and had to miss a big game against the Kansas City Chiefs.
QB Jordan Love took his place and the gambling world reacted by having this game go from a pick'em to the Chiefs being favorites by as many as eight points in some sportsbooks.
As a bettor, you run into a problem here because you do not know what you are going to get from Love but the Chiefs are also not the most trustworthy team, being just 2-6 against the spread going into that game.
So, what can you do? You can bet on the point total and bet on the Packers missing Rodgers while not having to rely on the Chiefs to blow them out.
In that scenario, you would be betting on the Packers and the Chiefs to have under 48 points rather than the Chiefs to win by eight, which may sound like a safer alternative for you if you do not trust the Chiefs.
Weather
You might be surprised to hear this but weather can also play a big part in when a point total can make a good bet. If you think about it, particularly in football, you can be playing in two completely different environments compared to other sports depending on your location and the time of year.
In football, teams can meet up in conditions such as a blizzard or at a time when there is just pouring rain or high winds. In these situations, it would be tough to move the ball around or kick any field goals, so you might be tempted to bet under the point total in these games.
Then, there is the opposite effect if say, you have a 100-degree sunny game in Texas during the late summer. During hot and humid games, it may be easier for players to get tired and lose their energy, which can create an advantage for the offense if they are more explosive.
In that situation, you may be tempted to be over the projected point total.
Pushes and Overtime
If you are betting on a point total, there are two important things to keep in mind when thinking about doing this. The first is if the point total is exactly the number you bet on.
Say you bet 48 in the Packers vs. Chiefs game and it has exactly 48 points scored in the game. In that situation, the bet would be ruled a push and you would get the money back that you bet on it but you would not win any profits.
Then, one of the biggest advantages or disadvantages for bets on point totals (depending on what side you are on) is a game possibly going to overtime. To the fortunes of over bettors and dismay of under bettors, overtime does count towards a point total.
So, let's say that the Packers and the Chiefs are tied at 24 at the end of regulation. An under bettor would still need to wait for overtime to play out before being able to get their money back and if either team scores a point in that overtime, then the over would be the winning bet.
With that in mind, you need to be aware of the possibility of overtime ruining the bet that you might have on an under. But, one day, overtime could save you from an over bet being a loss.
Bet on the Point Total
These are some tips for the best bets on the total points. If you follow this advice, you can have this type of bet be in your rotation more often than you may have used it in the past.
But, what if you would rather be a bookie taking those bets instead but you do not know where to begin? See our six weeks free for running your own sportsbook today.