Wednesday Night Basketball – Feb 17, 2021
February 17, 2021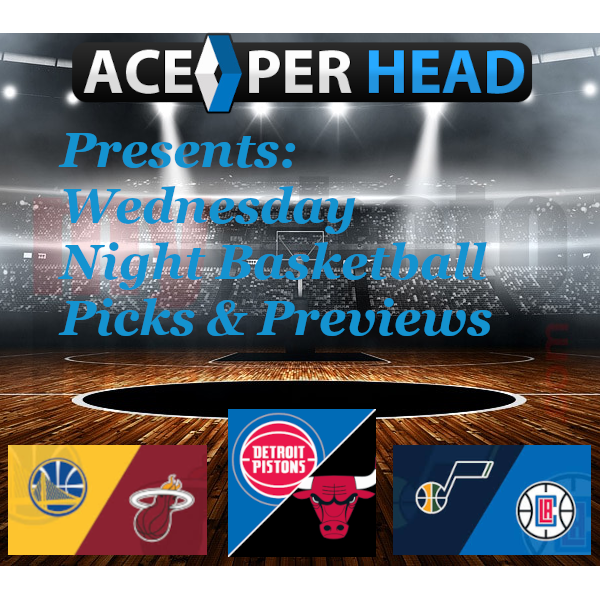 Golden State Warriors vs. The Miami Heat
10:00 p.m. @ Chase Center
The Miami Heat head to the West coast to battle The Golden State Warriors for some action-packed Wednesday night basketball. The Golden State Warriors go into this as 2.5-point favorites and are playing with a record of fifteen and thirteen. They haven't been playing like themselves all season, they've only been able to go on a two game win streak and two game loss streak its constant back and forth. Their record is underwhelming and their future in this season is questionable. It also doesn't help that The Warriors have Klay Thompson still sidelined with an injury, but on a good note they have won three of their last four contests. For now, though all eyes have been on Stephen Curry and Draymond Green. These two have always been hot for Golden State, Green is number one in the NBA for assists and Stephen Curry has scored over twenty-five points in the past ten games. With these two leading the team they are finally starting to get into a rhythm and look like the old Warriors. They just need to work on strengthening Andrew Wiggins and Kelly Oubre so they can have a strong base, hold their own and be contenders in this year's post season.
The Miami Heat are playing at a sad record of eleven and sixteen and suffered one of their most brutal losses of the season in their last contest against the Clippers. It was an embarrassing one because The Clippers were missing their whole starting lineup so this one should've been in the bag for Miami, but they choked. The star for Miami is Jimmy Butler, the bad boy of the league who put up a triple-double with thirty points. Butler is a total beast and he had help from Tyler Herro and Bam Adebayo putting up over twenty-five PPG and it's good for scoring but it isn't enough to win games Those three are the only hot items The Heat have going for them right now. They have taken a huge hit with Goran Dragic being out with an injury but if he's able to make a comeback he could make an impact. This Miami Heat team is strong, and they had a great last season, but they are struggling right now and need to get back to how they were before they lost the finals in the bubble. The Heat and The Warriors both played last season and The Heat were victorious in both contests.
Our Pick would have to go to Golden State and to take the Under.
Miami Heat: PS/Total:1.5-110 Total O/U: 223.5-110
Golden State Warriors:-1.5-110 Total O/U: 223.5-110
Detroit Pistons vs The Chicago Bulls
8:00 p.m. @ United Center
The Chicago Bulls host The Detroit Pistons for the battle of the Midwest. The Chicago Bulls are currently playing with a record of eleven and fifteen and are in the middle of a slump. They have struggled for the last ten games but had one impressive win over the Pacers. The Bulls are led by Zach LaVine who is a guaranteed thirty points and is a rebounding machine. Some other key players for The Bulls are Garret Temple and Coby White who put up big numbers, then there is Thaddeus young, and Tomas Satoransky who put up thirteen points each. Also, keep an eye out for Denzel Valentine and Wendell Carter they generate a lot on offense for this Bulls team. The Bulls have Otto Porter and Lauri Markkanen out for the game. This Bulls team is solid defensively with high rebound rates, as they can produce on offense. They have what it takes to beat the struggling eight and nineteen Detroit Pistons, but it just depends who shows up ready to eat!
They have fallen short of expectations this season and have a terrible road record. Their most recent win came against The New Orleans Pelicans on February fourteenth. A driving force for The Pistons is Josh Jackson putting up twenty-one points for them in their last contest. Other key players are Mason Plumlee and Delon Wright who put up seventeen points and dominate on the defensive side as well with Plumlee tacking on ten rebounds. Another star for this Detroit team would be Svi Mykhailiuk who went hard in the paint with eighteen points, three assists, and a matching pair of blocks and rebounds. They are rebuilding their team and working some kinks out playing with all the cards they have with players like Okafor out. They have gems like Saddiq Bey and Jerami Grant putting up over thirty points together, but the starting five for this team is mediocre at best and I'm surprised they got those eight wins. On the injury side, Killian Hayes and Jahlil Okafor are out then Sekou Doumbouya is listed as questionable off concussion protocol and the Big Star Blake Griffin is just sitting on the sideline waiting to be traded so all of them are no help in this game.
Our pick is to take Chicago to win this game against the Spread. This is the first meeting for them of the season.
Detroit Pistons PS/Total: 3-110 Total O/U:220-110
Chicago Bulls PS/Total:-3-110 Total O/U:220-110
Los Angeles Clippers host Utah Jazz
10:00 p.m. @ Staples Center
The Utah Jazz travel to The City of Angels to tip off against The Los Angeles Clippers for a battle of two of the best teams in the West right now. This is going to be one of the best games of the week between these two powerhouses and I would 100% watch and get in on this action. The Clippers are currently playing at a dominating record of twenty-one and eight giving their neighbors the reigning NBA Champs, The Lakers a run for their money. They had one of their greatest victories Monday night by a score of 125-118. The score doesn't look like much, but it was an impressive victory because they won this game without four of their starters which means the W should've belonged to Miami. The players that were out included Kawhi Leonard, Niclas Batum, Patrick Beverly, and Paul George but they could all return for this game because they aren't expected to be out long. In their absence Marcus Morris and Lou Williams have taken over. Morris putting up career highs of thirty-two points and Lou Williams putting up back to back double doubles like its nothing. If those two can keep putting up big numbers and their starters return this Clippers team could go all the way. The challengers for this contest are The Utah Jazz who are currently at a record of twenty-three and five and are the greatest team in the league right now with the Clippers and Lakers trailing behind them. Though they don't have big names like Lebron James and Kawhi, but they have Donovan Mitchell and that's all they need.
Since the beginning of January, they have only lost once in a rough situation where the Nuggets hit sixteen three-point shots out of the gate. The Utah Jazz has always been great on defense, but their biggest improvement has been offensively. They have their leader Donovan Mitchell and Mike Conley upfront. Then in the backcourt, they have Rudy Gobert who is a rebounding machine. Then their secret weapon Jordan Clarkson, who is their sixth man putting up a guaranteed twenty points. This team is a force to be reckoned with and they are evenly matched, but it all depends on how The Clippers perform or if anyone comes back from their injuries. Utah has beaten the Clippers eight times out of ten and again most recently in January. So, our pick would have to go to Donovan "Spida" Mitchell and The Utah Jazz they are 1.5-point favorites going into this and have been a dominant force this season and I see no stopping them anytime soon.
Utah Jazz PS/Total: -4-110 Total O/U: 227.5-110
Los Angeles Clippers: 4-110 Total O/U: 227.5-110
If you're looking to get in on the action AcePerHead.com is the place to go. The NBA lines we have are impeccable and a bookie's dream. With the best pay-per-head software, we kept proving the haters wrong and treating our clients right.