The Wizards head up North to take on the Reigning NBA champs
February 1, 2022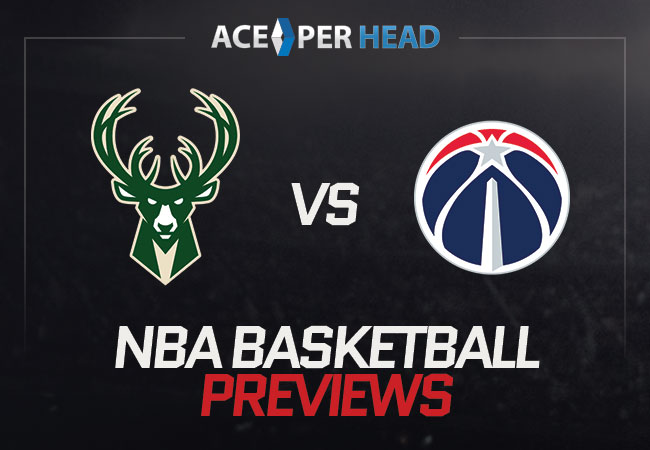 February 1st , 2022
7:30 p.m.
@ Fiserv Forum
Milwaukee Bucks vs. Washington Wizards
The 5th place Milwaukee Bucks host the 12th place Washington Wizards for some primetime basketball action.
Giannis and the Bucks are currently playing with a record of thirty-one wins and twenty-one losses, and with a target on their backs, it is not making it easier for them. In their most recent game, they did not look like defending champs, they lost to the Nuggets by thirty-six points and this was shocking because the Nuggets weren't expected to perform so well so there were some internal errors for Milwaukee and fans hope they can pull it together before tonight's game. For the Bucks, Grayson Allen put up eleven points and 4 rebounds and Bobby Portis also put up eleven points and brought down 5 rebounds. Another star for Milwaukee is Jrue Holiday, he is expected to have a night tonight. Holiday amassed fourteen points and dished eight assists, while also bringing down five rebounds and recording one block that night against the Nuggets. Lastly, the biggest and brightest star for the Milwaukee Bucks is Giannis Antetokounmpo, he was definitely the driving force for this team's success. Giannis put up twenty-nine points, 9 rebounds, 2 assists, 1 steal, and 1 block in their loss against the Nuggets. Not too bad offensively but if they can make some adjustments on defense this Bucks team can bounce back and get this W over the Wizards tonight.
The Washington Wizards are coming into this matchup 12th in the Eastern Conference with a record of twenty-three wins and twenty-six losses, earlier this year they were unexpectedly doing well, putting on for our nation's capital. But more recently they have lost 5 consecutive games coming into this matchup against the Bucks, which isn't looking too good for them. In their most recent contest, they lost to the Grizzlies by 20 points, the Memphis Grizzlies have been absolutely on fire this season so this wasn't a shock. This Wizards team though losses but they definitely do not make it easy for their opponents, they know how to put up a fight. In their last game, the Wizards were led by Kyle Kuzma who amassed thirty points, grabbed 8 rebounds, matching 3 steals and assists, as well as recorded one block. Also, they had support from Bradley Beal who put up 9 points and dished twelve assists. While Beal also recorded 2 rebounds and a matching 1 steal and block. Spencer Dinwiddie added to the teams' stats and finished the game with ten points, 4 assists, and 3 rebounds. Then Kentavious Caldwell-Pope put up fifteen points and pulled down 2 rebounds that night against Memphis.
This Wizards team is a tough one and they do have some talent, but they are going to need to pull out all of their tricks if they want to be victorious in this matchup against the reigning champs. As far as injuries go Brook Lopez is dealing with a back issue, while George Hill has problems with his neck. Those two will be out for the Bucks and then Bradley Beal will be benched for the Wizards with a wrist injury. This is the second time this season these teams will be facing off the first time the Wizards went home with the win.
Here at Ace Pay Per Head, we are going with the reigning champs the Milwaukee Bucks to walk away with the victory at home tonight, Giannis and Jrue Holiday have what it takes to seal the deal over Kuzma and the Wizards and tie the series to 1-1 for this season.
Washington Wizards:
+11- 110
o229 ½ -110
Milwaukee Bucks:
-11 -110
u229 ½ -110
Become a Bookie Agent Today:
Sign up today and have your package set up and ready to go within 24, imagine, in 24 hours you could be on your way to increasing your NBA profits as well as strengthening your brand with the amazing lines and betting options that Ace Pay Per Head offers, not to mention your customer retention will improve significantly thanks to the incredible customer support staff employed by AcePerHead.com.