UFC 200 Lots of Fights and Lots of Betting
July 7, 2016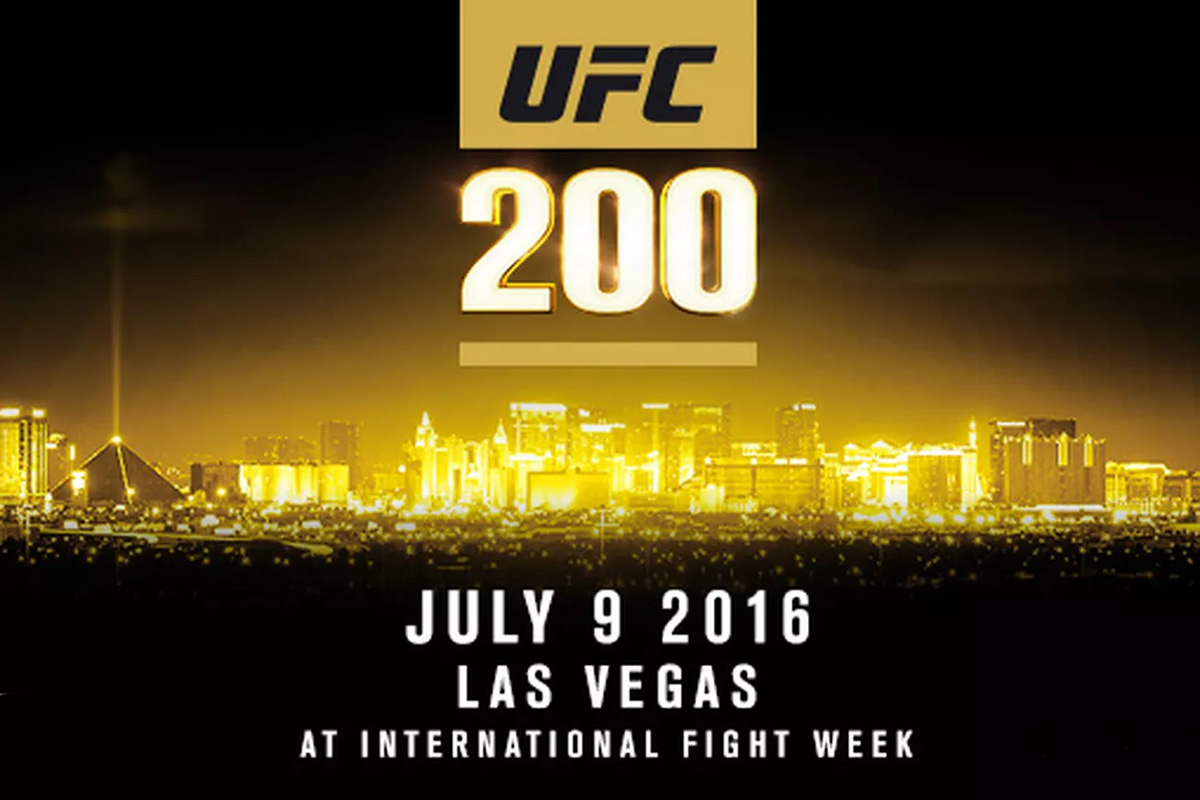 A lot of built up and expectation for the UFC  200 that is scheduled to take place Saturday,  July 9th at the T-Mobile Arena in Las Vegas, Nevada and on the UFC Network's PPV, the main event features a rematch between current champion Daniel Cormier vs. Jon Jones, the co-main event has the return of  heavyweight champion Brock Lesnar  facing Mark Hunt,  and also in the PPV  women bantamweight title match between current title holder Miesha Tate against  Amanda Nunes.
A rematch that may end up with a new champion
28 years old Jon "Bones" Jones comes in with a record of 22 wins and 1 loss, he owns a great defense, he has a 56% efficiency as a striker and he is one of two fighters in UFC history to earn two submissions while standing, choking out both Lyoto Machida at UFC 140 and Jake O'Brien at UFC 100 with standing guillotine chokes, his expertise is in wrestling, jiu-jitsu and muay thai,  he is taller and has the reach advantage over Cormier, with  12 inches more in arm reach and 4 inches more in leg reach  than Cormier, these characteristics make him the favorite to win for odds makers.  The current light heavyweight champion Daniel Cormier is not an easy opponent though, he has only 1 loss in his record which was by decision and which came at the hands of Jones. Cormier is a wrestler, that's his main tool against Jones, but he was unable to land any takedowns in their first encounter, Cormier has better learned his lesson, he needs to control Jones on the ground, standing Jones is too much of a threat.  Although Jones did not impress in his last performance and he is not the most "likeable" fighter, he is the one with the better skills and physical advantage, my money is on Jon Jones to win.
Grappler vs. Striker
Brock Lesnar and Mark Hunt promise to be a great fight; Lesnar has the reach advantage, he  is a great grappler and wrestler but not a very good striker, while Hunt is exactly the opposite, he has big power to deliver an efficient KO but he lacks ability when sent to the ground.  Hunt is the favorite to win at -170; this will all come to which of the fighters will be able to control the fight using their technique. I like the value and would go for the upset with Lesnar at +150
Women's match with a lot of potential
Miesha Tate surprised everyone by pulling the upset over Holly Holm back in March; submission and wrestling are her strengths, she is not a great striker but she makes up for it with her aggression, her defense is not top notch either. Her opponent Amanda Nunes, is a well-rounded athlete that doesn't necessarily excel in one particular area but is usually good at everything, she has decent skills both standing and on the ground, she has ended all her fights by KO or submission, her weakness is her physical condition, she wears out quickly, if  Nunes wants to win this she will have to come out aggressive and handle Tate in the first round, if she can't manage this then Tate will win it eventually, she has proven she can handle a punch and go the distance.
My picks are Jones, Lesnar, Tate and Velasquez, my bets are being placed at AceSportsbook.com, what are your predictions for this UFC 200?
Odds to bet the UCF 200:
LIGHT HEAVYWEIGHT BOUT
+250  Cormier vs -300 Jones
HEAVYWEIGHT BOUT
+150 Lesnar vs -170 Hunt
WOMEN BANTAMWEIGHT BOUT
-250 Tate vs +210 Nunes
HEAVYWEIGHT BOUT
-290 Velasquez vs +245 Browne