UFC Fight Night: MAIA vs. CONDIT
August 26, 2016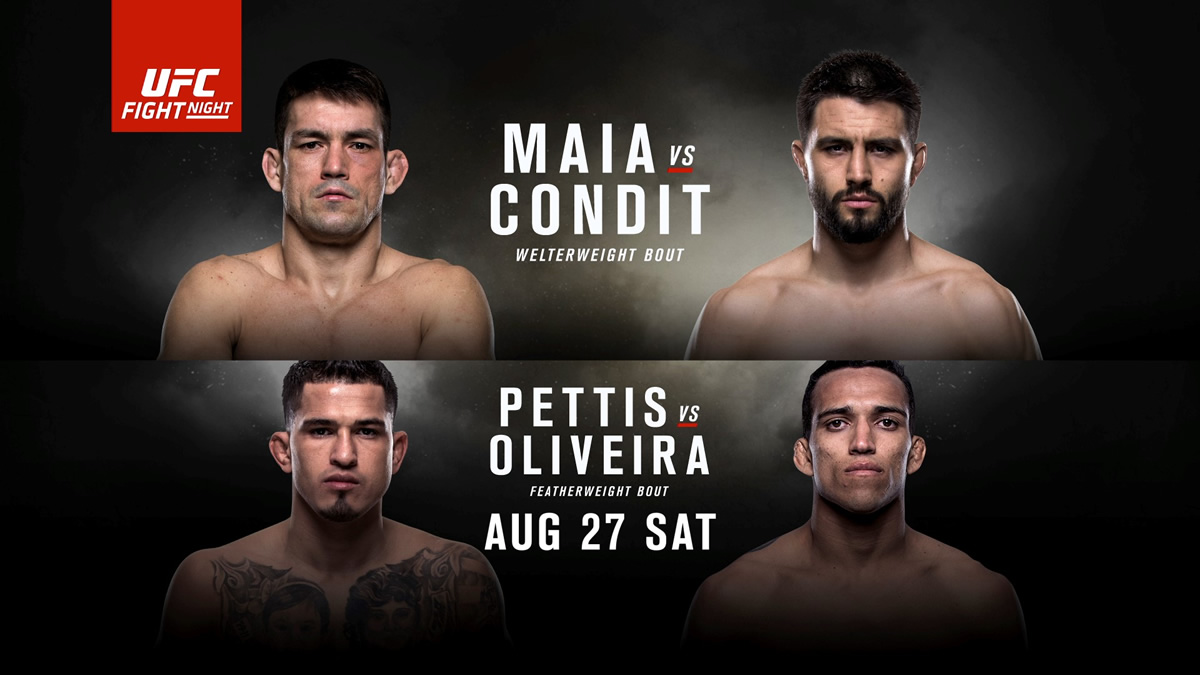 Five round welterweight action in the main card of the UFC Fight Night taking place Saturday, August 27 in the Rogers Arena in Vancouver, Canada and featuring Brazilian Damian Maia and U.S. Carlos Condit ranked number 3 and 4 respectively in their division.
Bet on MMA this Weekend UFC Fox 21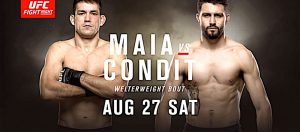 Damian Maia has a record of 26 wins and 6 loses,  this 38 year old veteran is skilled on the mat and has a great defense; he suffered his last loss back in 2014 via unanimous decision to Rory MacDonald.
Carlos Condit "The Natural Born Killer" is a former interim welterweight champion, has a record of 30 wins and 9 losses, the last of which was in January of the present year when he lost a title fight via split decision against Robbie Lawler in a Fight of the Night; he is 32 years old and has a 50% KO ratio which gives him the power edge in this fight, he is also slightly taller than Maia and faster, however, he has lost 4 out of his last 6 fights. Condit needs a win to get his career back in track.
Striker vs. Grappler scenario, Maia will try to take Condit to the ground, the problem may be that Condit is actually comfortable fighting on the mat, he is the younger power puncher and he is obviously going to use that to his advantage; odds for #MaiaCondit have Carlos Condit -120  and the total at  3½ +110. Based on skills and motivation alone Condit should be able to get the win on this match, but I like Maia to win.
UFC Fox 21 Co-Main Event
In the co-main event, Anthony Pettis and Charles Oliveira will be part of a 3 round featherweight match, this is a move up in weight for Pettis who out of the two is the better striker but also has decent skills on the ground, he is coming from three consecutive losses all of them by decision, he needs a win on his record. On the other hand, the 26 year old native of Sao Paulo, Brazil but fighting out of Houston, Texas, Charles Oliveira, has excellent skills on the mat. Odds to bet on Pettis vs. Oliveira show Pettis as the favorite at -175 , Oliveira +155 and the total 1 ½ .  The majority of the bets are on Pettis to win; and on paper it seems as though his striker skills should be able to get the job done, but I think Oliveira is capable of pulling the upset.
Ace Sportsbook brings you all major MMA events for you to bet on UFC Fight Night on Fox 21 promises an exciting card.