Pistons head to Milwaukee to take on the Bucks for some Monday Night Basketball Action
January 3, 2022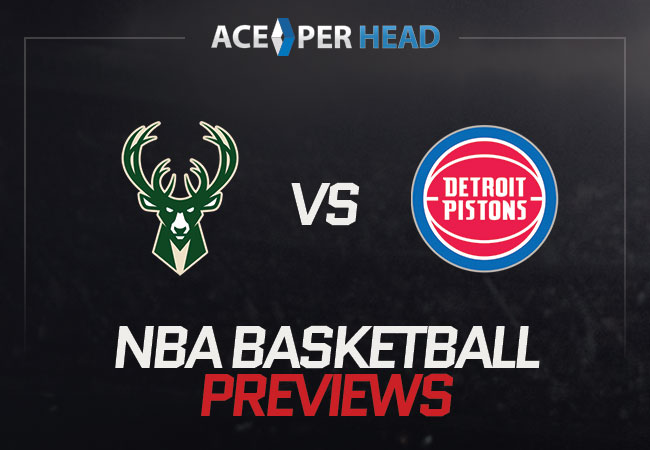 January 3rd, 2022 @ Fiserv Forum
This Monday the Detroit Pistons are set to play against the third-place Milwaukee Bucks for a battle of the East.
This will not be an easy feat for the Pistons as the Milwaukee Bucks are killing it in a comfy third-place spot in the East. As well as an exceptional record of twenty-four wins and thirteen losses.
This Bucks team led by the great Giannis Antetokounmpo is on a three-game at-home win streak and looks to extend it to 4 and defeat the Pistons. Other stars that stand out for this Bucks team are Jrue Holiday and Grayson Allen. Holiday averages twenty-four points per game for the Bucks, and Allen puts up twelve points per game, hitting forty percent of his shots, averaging 34 three-pointers per matchup. Milwaukee was been great as a team averaging 116 ppg, dishing twenty-three assists, and collecting forty-five rebounds offensively. Then defensively they have at least four blocks and eight steals. They have been on a seven and three-run in their past ten games, and give up 111 ppg to their challengers. The Bucks are dealing with some injuries with Semi Ojeleye and Thanasis Antetokounmpo out on health protocols.
Brook Lopez is out with a back injury and Donte DiVincenzo is out with ankle issues. As far as shooting goes Milwaukee is hitting forty-six percent of their shots from the field and they are ranked fourth in the National Basketball Association for points averaging 112 ppg. While their challenges the Detroit Pistons are currently playing with a record of five wins and twenty-eight losses and are sitting at a sad 15th place in the Eastern Conference. They are definitely lower on the totem pole compared to the Bucks, but nevertheless, this Detroit team is fierce and can get the job done. This Pistons team has some real talent in players like Saddiq Bey and Trey Lyles. In the Central Div. The Pistons hold a record of one and six, giving up more than 100 points per game and in the fourth quarter, they are outscored by upwards of ten ppg. As a team offensively Detroit dishes twenty-two assists, and averages 103 ppg, hitting forty-two percent of their shots from the field. While on defense they give up 113 points, but on a better note they collect five blocks, nine steals, and forty-four rebounds. As far as injuries go the Pistons have quite a few players out on health protocols.
Cade Cunningham, Isaiah Stewart, Saben Lee, and Killian Hayes are all out due to COVID-19 Health protocols. Then Jerami Grant is out with a thumb injury. Frank Jackson is out with an ankle injury, Isaiah Livers is out with a foot injury, and Kelly Olynyk is out with a knee injury as well. These injuries and health protocols are hurting this Piston team's chance for greatness. Unfortunately their guy Cade Cunningham will be out, which is brutal for them because he's a threat on both sides of the court. Pulling down 6 rebounds a game and draining fifteen points nightly for the Pistons. But they do have their secret weapon who helped them with a buzzer-beater W the other night Saddiq Bey! He is a threat from beyond the arc averaging 3 trey balls a game. This is the third time these teams are going to meet this season, the last time they played the Bucks walked away with the W, by the score of 114-93. the Bucks are seventeen and nine in Eastern Conference play this season and they seem like a threat.
Even though the Pistons have offensive threats like Trey Lyles and Saddiq Bey, I believe the W in this one is going to go to Giannis Antetokounmpo and the Milwaukee Bucks in 2021 Champions seem to be the favorite in this one.
Start Building your Bookie Empire Today!
Ace Per Head.com is the place where you can be your own local bookie for all your friends, family, coworkers, schoolmates, and social media friends.
Get set up with AcePerHead.com's service that will allow you to book action on sports from all around the world.