NCAA Football Betting Software
November 24, 2021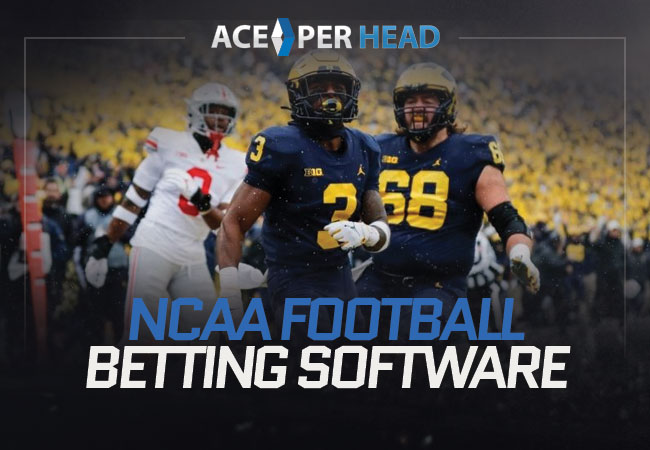 College football. It is one of the most popular sports in America to bet on, with college football betting becoming more and more openly available.
By the end of the 2021 season, there is expected to be $8 billion bet on college football.
With that in mind, bookies will want to get in on the action, and bettors will want to figure out how to avoid handing all of their money over to the sportsbook of their choosing.
Well, for this sport, knowing the NCAA football betting software and how it works may be able to help you make a profit.
So, what are the most important things to know here? This is your guide.
Following Team Trends
The first thing that you have to do is follow team trends when you see point spread lines for these games. A team may have a good overall record and win games outright but at the same time, fail to cover that spread in a lot of their games.
A good example of this is the Clemson Tigers for the 2021 season. In their first nine games, they have only covered the spread twice. Yet, their overall record is 6-3, so they do still win a lot of games outright.
This would put Clemson at 2-7 against the spread but with team trends, there is something important to note about these. That is the fact that the trends can change on a dime.
Going further with this example, Clemson failed to cover their first seven games of the season and lost three of them outright. However, the Tigers have covered their last two games as a single-digit favorite.
As a bettor, what does this tell you? It tells you that the sportsbooks might have caught up to Clemson and that they are not as good as a bet to pick against as they once were.
These are the types of things that you need to be aware of when betting on NCAA football betting software because it can adjust the point spreads in Clemson games to a way that might be more of a 50/50 chance rather than an obvious fade for the Tigers.
Live Betting
One feature that the latest betting software provides is being able to bet live on a football game. This can be both a good and bad thing as a bettor because it opens up a pandora's box for the number of betting scenarios that become available to you as a bettor.
Having the right software gives the bookies an edge here because it can put outlines that are attractive to bettors on both sides while giving the bookie a legitimate chance to make money as the action is underway.
As a bettor though, there are prime opportunities to take advantage of live betting, such as when a good team is off to a slow start.
For instance, let's say that the Alabama Crimson Tide gives up a touchdown early in the game to a team like Arkansas, who can be favored by as many as 24 over.
In this situation, that point spread live may go down to as low as 20 if it happens with enough time taken off of the clock. If you are confident that Alabama is going to bounce back after giving up a touchdown, then you could get them at a lower spread.
Another example would be keeping an eye on how teams do in certain situations, like say the Texas Longhorns after halftime. In 2021, Texas tends to be a bad second-half team that has blown a lot of halftime leads this season, so a live bet may be the way to go in their games and to bet against them in the second half.
Stay disciplined when it comes to live betting and look for the right opportunities to strike when having an abundance of betting options like this.
Point Totals
If you do not like the idea of betting on a point spread and the money line is too rich for your blood, one thing that you can look at betting in a game is the point total. In this situation, each game has a projected point total and bettors have to bet whether the game will have more or less than that point total.
This is a good opportunity to strike when you are not sure about which team covers in a spread but you have a good idea of how many points per game a team can score or give up.
All one would have to do is look up team statistics like this and see who leads the nation in points per game and who gives up the most points.
At the time of writing, Pittsburgh led the country in points per game, averaging 45 points themselves. This reflects their record as an over/under bet, as their games have gone over the point total in seven of their first nine games of the 2021 season.
On the opposite end, you have a team like Illinois that averages just under 17 points per game at the time of writing. This has also been reflected in their record on over/under bets, with just one of their first 10 games going over the projected point total.
As a bettor, these can be good trends to pick up on and software may not be able to keep up with a team that either fails to score consistently or a team that never stops scoring like the two above.
Knowing the Public Side
Something underrated about betting is knowing which side is getting a significant portion of the bets in the game. This can give you as a bettor an idea of where the money is going, where the line might move to, when you should bet, and what the right side to bet on is.
A bettor needs to win more than 52.4% of their bets to make a profit, and most professional bettors do not win more than 60% of the time. If you think about it, that means there is very little room for error and that the average bettor is probably going to lose more times than they are going to win.
So, what should you do with this knowledge? It might be worth considering betting against the public and taking the side that you might not think of.
Betting software is set up to try to take 50% of the action on each side and if it is not that, then that means the sportsbook is pretty confident one side will come out on top. Earlier in 2021, about 85% of bets were placed on Notre Dame when they hosted Cincinnati but the line never moved off of Cincy as a small favorite.
This was partially because the small number of people who bet Cincy bet a significant amount of money but it was also a small hint that sportsbooks and the betting software along with it was confident that Cincinnati would win the game and cover the spread.
Another example is when an unranked team is a favorite against a ranked team. It might be tempting to back the team that is highly ranked but you may want to think hard about why the other team is listed as a favorite.
Outside Factors
Sometimes, betting software cannot catch up automatically to something that can majorly shift a line, so if you pay attention and catch it early enough, you might be able to get a steal.
An example is if a prolific quarterback of one team suddenly gets ruled out for a game. If that QB was expected to play, it can shift a line by several points and if you catch that early enough, you can get a very friendly line.
Then, another thing you might want to pay attention to is the weather forecast for certain games. If there are strong enough winds for an outdoor game, that can be a significant factor for betting lines, especially ones that revolve around point totals.
There are other obvious weather factors, such as rain and snow, that can slow teams down in the scoring department, but the opposite can hold true as well. If the weather is say hot and humid in a September game in Texas, that might increase the odds of the game going over a point total.
Learn More About NCAA Football Betting Software
These are just a few of the things that you need to be aware of when it comes to NCAA football betting software. If you follow this guide, you can increase your chances of making a profit through sports betting.
But, what if you would rather be the bookie than the bettor? Enjoy our six-week free trial for making your own sportsbook today.