World Cup 2018 Group "B" Analysis
June 6, 2018
The groups for the 2018 FIFA World Cup are randomly selected, but, now and then faith arranges things to create a group that is sure to generate excitement amongst bookmakers. Group B is such a case.
Even for Favorites, Nothing Is Guaranteed
While at first glance there seem to be two favorites, there are no guarantees as the other two teams have had remarkable journeys to get here and are unlikely to let this opportunity slip through without a fight.
The contenders in group B are Portugal, Spain, Morocco, and Iran. Again, if history repeats itself, then Portugal and Spain should be the clear favorites, but, after we analyze the assets in both Morocco's and Iran's teams, you will start to see why nothing is guaranteed in this group.
The oddsmakers at www.AcePerHead.com know this, and they are closely monitoring the betting lines, adjusting them to ensure agents get the maximum profits from these exciting matches at the free bookie software.
Let's take a closer look at each of these teams, and you be the judge of who should be the favorite.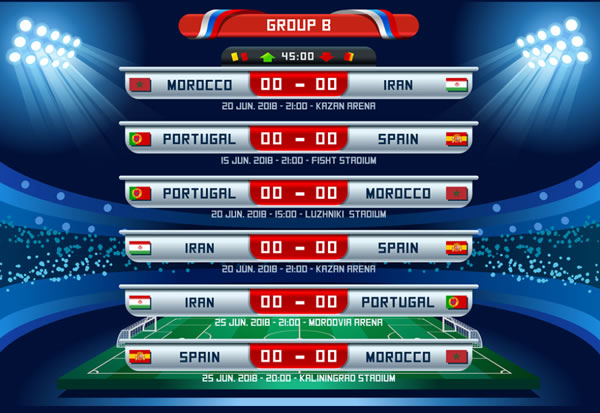 Portugal
Everyone knows how Cristiano Ronaldo is, and what he is capable of, however, when it comes to World Cup tournaments he has never reached the heights everyone including himself expects. Cristiano is running out of time, and he knows it, at 33, if he is ever going to win a World Cup Championship it needs to be now.
Portugal has proven it has what it takes to win major international tournaments; they beat France in the European Championship back in 2016 despite an early injury to Ronaldo. Much of that squad will be in the lineup during the World Cup, so experience is on their side.
Spain
This team seems to have gotten a fresh start after Julen Lopetegui took over as head coach. As you may remember, Spain won the World Cup back in 2010 but failed to defend their title in 2014.
This time around they are looking to turn the tables, and they most certainly have the talent to do it, a lot of the players like Sergio Ramos, David De Gea, Gerard Pique, Alvaro Morata, and Diego Costa to name a few are stars in their own right across Europe.
Lopetegui's challenge was to get all these egos to work together as a team, and he succeeded, Spain was undefeated through the qualifying rounds with nine wins and one draw. Given that, they are my favorites to win this group.
Morocco
It is exhilarating to watch this team play, head coach Herve Renard has transformed this North African team, they present a solid defense for sure, but, most impressive is their fast attacking capabilities. Morocco is a team with a lot of young talent who did not conceal a goal during the qualifiers, they are fast, and they are hungry for a win. Underestimating the North African team of Morocco is a mistake.
Iran
Most people would dismiss Iran given the competition they are facing in group B, but that would be a mistake.
Iran went undefeated in the 18 games of the qualifying rounds, in the last round Iran did not concede a single goal in 9 rounds until their match against Syria where they ended in a draw 2-2.
This is the fifth time Iran will appear in a World Cup Tournament, and the first time qualifying back-to-back. Their head coach has hinted that they will advance to the knockout round by claiming that his team will not travel to Russia as tourists.
2018 Russia World Cup Groups:

Group B of the World Cup Tournament is highly competitive, which is why having the most experienced soccer lines managers on your side is so important. Register as an agent with Ace Per Head today and don't miss out on this fantastic opportunity to make tons of money.
Best Pay Per Head Bookie Service
Pay Per Head Bookie Tips: