World Cup 2018 Group "H" Analysis
June 15, 2018
ne full month of soccer is a wonderful thing, it is unfortunate we have to wait four years for each World Cup, but for now, the wait is over, the Russia World Cup is here and this means also an opportunity to make some extra cash by betting in the World Cup.
The group stage is interesting as some teams get lucky and end up in groups where they have little competition while in other cases the groups are complicated and difficult to predict. In the case of Group H, for instance, it is probably one of the best groups if you are interested in betting, made up by Poland, Senegal, Colombia, and Japan, no real surprises are expected.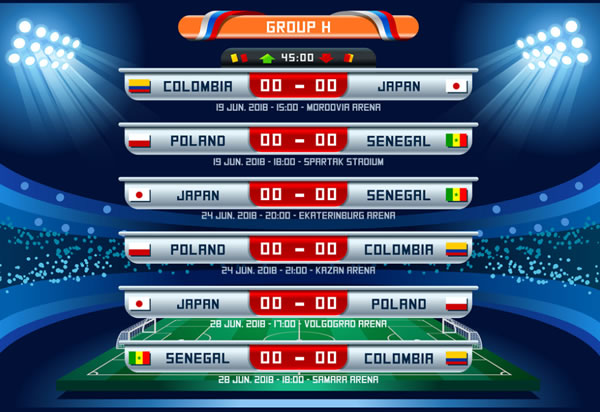 Let´s take a look at these teams:
Poland
This team made it back to a world cup after a 12-year absence, it had a good qualifying stage, they are ranked as number 8 by FIFA. The star of the Bayern Munich, Robert Lewandowski, has a lot of weight on his shoulders as the captain and main striker for Poland. The team in itself plays well and is likely to classify to the next stage.  Poland will have its first challenge against Senegal on June 19, a match that the Polish should be able to dominate.
Senegal
An average performer, is probably how you can describe this African team, strong players, the team holds the 27th position in the FIFA ranking, and this is just their second appearance in a world cup after a long absence. Led by Aliou Cissé, the former captain of Senegal back in the 2002 World Cup when the team managed to make history by reaching the quarterfinals, Cissé has proved to be a great leader who managed to get the team unbeaten through its group in the African qualifiers. Definitely, this is a team that should not be underestimated, however, in comparison to Poland and Colombia, Senegal may fall short in resources to make it past the group stage.
Colombia
Even though the South American team has not shined lately as it did in the past, it Is still a good team with a lot of game. Ranked 16 by FIFA, Colombia didn't have a very impressive qualifying tournament finishing in number 4. The world has high expectations on James Rodriguez to give the team the points needed for its classification. Colombia will measure up in the first game against Japan, this should not present high difficulty for the South Americans.
Japan
The weak link in this group, Japan is ranked 61 by FIFA, making it one of the worst ranked in this World Cup. In their appearance in 2014, Japan did not win any of their games in the group stage, and unfortunately odd are not in favor of the Japanese this time around either.
The prediction is clear, if we go on stats and history, Colombia and Poland should get through from Group H.
The World Cup  2018 is here and the action just starting, there are 47 games just in the groups' stage alone, the event is watched by an estimated 3.4 billion people and betting at free bookie software,  how much money will the gambling world be moving?
Bookies!
If you still don't have a pay per head service to help you offer your clients as many options to bet on as possible, you are running behind and you'll be missing out, head over to AcePerHead.com and be sure to make the best out of the Russia World Cup 2018.
2018 Russia World Cup Groups:

How to Become a Bookie Agent?