The Best Sports Betting Strategy in the World
December 7, 2021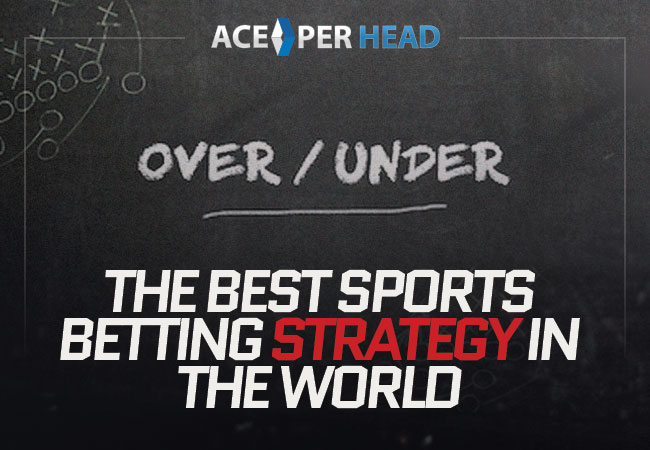 With more and more sports betting sites becoming available, that means more people have the opportunity to get in on the action.
However, actually making money from online sports betting is easier said than done. Less than 5% of sports betting accounts are believed to actually make a profit from betting on games.
If you are reading this, you are probably looking for the best sports betting strategy that will give you the edge over the sportsbooks.
Well, you came to the right place. Here are some tips that you need to follow to make a profit from sports betting.
Avoid Parlays
Parlay bets are like having the devil on your shoulder telling you that you should combine two separate bets into a parlay to maximize your profits. Truthfully, this is just greedy, and it is going to result in you losing more money than you should.
Let's take this study of New Jersey sports betting as an example. Through October of the 2021 calendar year, about 55.1% of the profits that New Jersey sportsbooks make come from parlay bets.
What does that tell you? It should tell you that sportsbooks rely on people making parlay bets because it generally leads to profits for them.
It is understandable to get tempted to have your own parlay bets because you might read about people making tens of thousands of dollars from a hail mary parlay bet. Plus, if you are using a parlay odds calculator, you might realize that you can have crazy returns just by combining three bets into one big bet.
This is a trap and sportsbooks are begging for you to do this. A perfect example would be you having a 3-leg parlay that would give you +500 odds if it hits. So, if you put $20 on it, you can make $100 in profit.
In this situation, let's say that you win two of the three legs of the parlay. That is not good enough to win the bet, so the sportsbook would collect $20 of your money instead of you potentially making a profit on those picks if you had just separated them into three different bets.
Parlays may be the more appealing choice if you give into greed, but keeping your bets separated will generally allow you to make more money off of sports betting in the long run.
Notice Team Trends
One of the best things that you can do as a savvy sports bettor is to keep an eye on team trends.
Why should you do this? Because it can allow you to see things in betting lines that not a lot of other people can see.
Let's use a Week 14 game in the 2021 NFL season between the San Francisco 49ers and the Cincinnati Bengals as an example.
In this game, the 49ers are coming into this as two-point road favorites despite losing to a bad Seattle Seahawks team the week before. The 49ers and the Bengals are not far apart in records or talent, so some would question why Cincinnati is an underdog at home.
Well, this is where team trends would come in. A trend here that is important to take note of for the Bengals is that they are 0-4 against teams that are currently ranked in the top 10 for passing yards allowed per game.
That means they struggle against teams that are good at taking away the passing game. Here, the 49ers came into this game ranking fourth in passing yards allowed per game.
So, a sharp bettor will realize that San Francisco is a favorite because the sportsbooks are thinking that Cincinnati will struggle against a team with good pass defense and enough bettors will still back them because they are a home underdog.
Paying attention to trends like this or even records for how a team does as a favorite, underdog, home, or road team plus how they tend to fare in over/unders can make you more money from sports betting in no time.
Fade the Public
Some question if this can be a profitable sports betting strategy and to that, the argument here is yes if you stick to it consistently.
As mentioned above, it is believed that less than 5% of active sports betting accounts actually make a profit. So, assuming that statistic is true, that means that the teams that the public likes to bet on are more likely to lose than they are to win.
A great example of this was the 2021 SEC Championship when Georgia took on Alabama. In this game, Georgia was an overwhelming favorite for the public, claiming 94% of the handle.
Yet, despite getting almost all of the betting action in that game, the line for Georgia-Alabama never really moved from 6.5 points. In the end, Alabama ended up winning the SEC Championship and the sportsbooks ended up making a killing from that game.
The lesson here is that sometimes, betting against the public can mean big rewards for you when nobody else thinks of betting on that side. You just have to do this consistently if you are going to go that way because making money from betting is a marathon and not a sprint.
There are plenty of resources that allow you to get a good idea of what the handle is on a game, so keep an eye on that before placing your bets.
Shop for Lines
One of the best things that you can do for yourself is to be open to picking lines from different sportsbooks. Even in the United States and Canada, there are enough options out there where you do not have to be stuck picking a bad line from one sportsbook.
There may be one sportsbook that typically likes to increase the line for big favorites while another way may try to reel in more underdog bettors. For those of you who like to bet with offshore sportsbooks (those operated from outside of North America), you may notice that some of those like to offer less juice on bets to entice veteran bettors to use their book.
One example of this is seeing that the Kansas City Chiefs are favorites by 7.5 points in one sportsbook but are only seven-point favorites in another sportsbook. No matter what team you wish to back in that game, that small line movement will be very significant for you since a lot of games could be decided by just a touchdown.
Another example is if one sportsbook regularly has -105 odds when some sportsbooks go as high as -115 for their games. That is the difference between paying $115 or $105 to win the same $100 on a bet.
For those doing the math, as long as the betting lines for those games do not change drastically, they will likely go with the book that is charging less juice to save money in the long run.
Maintain Discipline
Finally, arguably the most important thing for you to do to have an effective sports betting strategy is to maintain discipline. You generally never want to risk more than 1% of your bankroll at one time.
So, if you dedicate $5,000 towards sports betting for the year, a good idea would be not to go over $50 per bet. The reason for this is that it allows you ample time to recover from bets that may not go your way instead of chasing everything at one time.
Let's say you have a bad betting day and lose about $200 worth of bets going 0-4 for the day. Instead of taking a step back and waiting for another day to bet $50 on a game to slowly get it back, you decide to bet with emotion and put $200 on another game that is really not the best bet.
In this situation, you end up losing an additional $200 and now you quickly find yourself down $400 instead of $250. You must stick to a strict betting budget and create limits for yourself when it comes to sports betting.
It can become dangerous quickly to start chasing bets when you are on a cold streak, and this is just as much of a risk when you are on a hot streak and start to get greedy. Decide in advance how much total money you are going to allocate to betting and then only bet a percentage of that money on every game.
Create the Best Sports Betting Strategy for You
These are just five tips that you can use to create the best sports betting strategy for you. If you follow this advice, you will greatly increase your chances of entering the 5% of successful sports bettors.
But, what if you want to go to the other side and become a sports bookie? Well, you can dip your toes into that arena by taking advantage of our six-week free today!